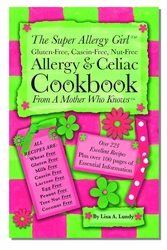 Could Food Be Making You Sick and Tired?
Buffalo, NY (Vocus) July 3, 2009
There is a growing interest in the relationship between food and health as more and more consumers reach for organic foods and foods made without chemicals, hormones and additives. Motivational speaker and specialty cookbook author Lisa A. Lundy makes available for the first time to the public a document aptly titled "Could Food Be Making You Sick and Tired?" which you can now download free from her website http://www.TheSuperAllergyCookbook.com. The document is an excellent primer addressing why there is such an explosion in the gluten-free diet, the value that the Feingold Association (http://www.Feingold.org) offers to people who want to be healthy, as well as the prevalence of celiac disease and other health conditions that are often helped by a change in diet including autism, ADD, ADHD, gastrointestinal issues, Crohn's disease, irritable bowel, behavioral, emotional and learning issues in children, allergies, depression and anxiety for starters.
Once source for people feeling sick or tired can be undiagnosed celiac disease. According to the University of Chicago's Celiac Disease Program, just over 3 million Americans have celiac disease, yet 97 percent of the people with celiac disease are undiagnosed. Celiac disease is more common than several other diseases that have become "household" words such as epilepsy, cystic fibrosis, hemophilia, Parkinson's disease, ulcerative colitis, Crohn's disease, rheumatoid arthritis, and multiple sclerosis.
Celiac disease is an autoimmune disorder that can affect both children and adults. In people with an active case of celiac disease, eating gluten, an amino acid sequence found in wheat, barley, rye, some oats and other grains containing gluten, triggers the body's immune response and can damage or destroy the villi in the small intestine. While there is no cure for celiac disease, strict adherence to a gluten-free diet is the recommended treatment. Undiagnosed and untreated celiac disease increases the risk of cancer by 200-300% according to a fact sheet produced by the Celiac Sprue Association USA, Inc., a non-profit consumer organization dedicated to supporting individuals with celiac disease has a website with information and resources on the topic: http://www.CSACeliacs.org
"More and more Americans are reaching for organic foods and foods made without additives, preservatives and food dyes because consumers are realizing that food can have a big impact on how they feel. U.S. food manufacturers are reacting to consumer demand and preferences by removing additives," Lundy stated. "It is an exciting time for consumers as we now see some of the major food producers on TV promoting the fact that their food is either organic or made without hormones, antibiotics, preservatives or additives" Lundy said.
Lundy is the author of The Super Allergy Girl™ Allergy & Celiac Cookbook (From A Mother Who Knows™), a gluten-free, casein-free, dairy-free, egg-free, peanut and tree-nut free and other allergen-free resource for both the beginner and experienced baker. She has more than a decade of experience with food allergies and celiac disease and has taught gluten-free baking classes in the Western New York community for many years.
Her cookbook, with more than 225 excellent recipes and over 100 pages of essential information has received extraordinary reviews from other mothers as well as from internationally known physicians like Doris J. Rapp, M.D. http://www.DrRapp.com. Order now to receive 10% off the list price of this exceptional book from http://www.TheSuperAllergyCookbook.com using the promotional code SICKandTIRED on the order. The 10% discount expires on July 31, 2009, and has a limit of one per customer.
http://www.TheSuperAllergyCookbook.com
Size: 6" x 9"
Pages: 405 pages
Soft Cover, Perfect Bound
ISBN#: 978-0-9797542-0-3
Price: $28.95
Contact: Ms. Lisa Lundy
Phone: (716) 835-6392
# # #