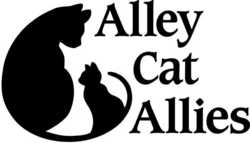 Many people do not understand that contacting animal control agencies to remove outdoor cats means literally handing these animals an immediate death sentence
Washington, D.C. (PRWEB) October 15, 2007
An overwhelming majority of Americans believe that leaving a stray cat outside to live out his life is more humane than having the cat caught and killed by animal control, according to a survey conducted by Harris for Alley Cat Allies, the national nonprofit organization dedicated solely to issues affecting stray and feral cats.
The survey results were released around National Feral Cat Day, which is observed annually on October 16 as part of a national movement that seeks to end the common practice of killing all cats—stray, feral or pet—that enter the nation's animal pounds and shelters.
Of the respondents to the Alley Cat Allies national survey, 81 percent said that it is more humane to let a stray cat live out its life than to kill it now. Respondents were then asked to consider the most humane outcome if they were to assume the stray cats would be hit and killed by a car in two years; 72 percent said it was still more humane to let the cat live out his natural life.
The Alley Cat Allies survey also found that more than two in five Americans have put out food or water for a stray cat, with more than one in five respondents reporting to have done so in the past year.
"Many people do not understand that contacting animal control agencies to remove outdoor cats means literally handing these animals an immediate death sentence," said Becky Robinson, president of Alley Cat Allies. "Feral cats are not a threat, yet they are not socialized to humans and cannot be adopted, so most shelters capture and kill them. Not only is this practice cruel, it is also a waste of money and resources and is not effective in reducing the total number of cats who live outdoors."
These results from the Alley Cat Allies Survey were released at the National Feral Cat Advocacy Seminar, Oct. 12-13, where experts and advocates from across the country gathered in Alexandria, Va. to overhaul our nation's animal control policies and end the killing of cats in animal pounds and shelters.
National Feral Cat Day was inaugurated by Alley Cat Allies in 2001 to educate the public about stray and feral cats and how Trap-Neuter-Return (TNR) improves the lives of outdoor cats.
During October and throughout the year, Alley Cat Allies conducts special events, programs and workshops to educate humane societies and government agencies on the basics of TNR, as well as empower residents to question their local animal control policies and to implement TNR programs in their communities.
In addition, thousands of concerned citizens, volunteers and local organizations across the United States will mark National Feral Cat Day with a series of events throughout the month, including spay/neuter clinics, community rallies, shelter-building projects and leafleting campaigns seeking to raise awareness and end the killing of cats by animal control agencies and shelters. A complete listing of local events can be found at http://www.nationalferalcatday.org.
About Alley Cat Allies
The mission of Alley Cat Allies is to protect the lives and promote the wellbeing of our nation's population of feral and stray cats, and to end the killing of cats in animal control pounds and shelters – the number one documented cause of cat death in the United States. Since 1990, Alley Cat Allies and its 150,000 supporters and volunteers have pursued this mission nationwide through educational and outreach programs. Alley Cat Allies also advocates for the use of Trap-Neuter-Return programs to control reproduction of cats. Visit Alley Cat Allies on the Internet at http://www.alleycat.org.
Contact:
Francie Israeli
(202) 737-8400
fisraeli @ johnadams.com
# # #