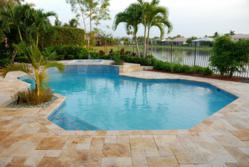 Don't drain your pool, no matter what.
Miami, FL (PRWEB) June 22, 2013
If you own a home in Florida, there's a good chance you've got a swimming pool in your backyard. With hurricane season finally here, a lot of pool owners are wondering what they should do in the event of a major storm.
David Cohen, the President and owner of All Florida Pool & Spa Center in Miami has been bombarded with questions about what to do when a hurricane or tropical storm hits. Are you supposed to drain the pool or just lower the water level? Does rainwater affect the chemical balance of a pool? What do I do with my patio furniture?
Cohen, who has over 30 years of experience working at All Florida Pool & Spa Center, says there are a few things you can do to help protect your pool. His company, which is one of the largest pool service companies in Florida, works closely with homeowners who want to service their pools themselves.
In the event of a hurricane, "don't drain your pool, no matter what," Cohen says. "The water can actually improve the structural integrity of your pool."
Cohen went on to explain that the weight of the water can keep the walls from caving in in the event of a flood or really high winds. Draining your pool is not only a waste of time and money, but it can put you at an even greater risk for damage.
What about draining a little bit of the water?
"Most pools leave a few inches of space in case heavy rains fill it up," Cohen said. "It's probably not necessary to lower the water level unless you see otherwise."
Cohen also described a process called "shocking" a pool, which is when you use extra chlorine to combat the rainfall which dilutes the chemicals in a pool.
"Shocking your pool helps to keep things chemically balanced when you get a lot of rain. Rainwater is naturally acidic and that can alter the pH balance of a pool," Cohen explained.
Another tip Cohen offered up is to make sure you put away all patio furniture and umbrellas so they don't blow around in the wind. A lot of damage is not done by the wind and rain itself, but rather the things that get swept up and turn into projectiles.
Keeping your pool safe and sound during a hurricane is a smart move for any homeowner. The cost of fixing a damaged pool can be expensive, so cheaper, preventative measures are always the best course of action. David Cohen suggests stopping by or calling All Florida Pool & Spa Center for more information about what to do with your pool during a hurricane.
About All Florida Pool & Spa Center:
With over 40 years in the Florida pool business, All Florida Pool & Spa Center is one of the largest pool companies in Florida. Family owned and operated since the beginning, All Florida Pool & Spa Center has a dedicated staff of 70 expert pool maintenance technicians. They are located at 11720 Biscayne Boulevard, North Miami, FL 33181 and are available by phone at (305) 893-4036. Visit us online at http://www.allfloridapool.com/.