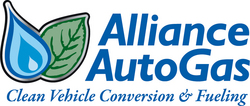 Asheville, NC (PRWEB) October 7, 2009
Five regional propane retailers have partnered with Alliance AutoGas, a national network of clean propane vehicle conversion, fueling and support. In addition to providing economical propane AutoGas vehicle fuel to fleet customers, these new partners will strengthen Alliance AutoGas' national footprint by communicating the many benefits of propane fleet vehicle conversions throughout Texas, California, Oregon, South Carolina and New Hampshire.
Alliance AutoGas offers vehicle fleets a truly turn-key solution to shift from conventional gasoline to propane AutoGas, which is cleaner, more economical and almost entirely domestic. Through a national network of conversion equipment providers, propane AutoGas fuel providers and Certified Conversion Centers, the Alliance AutoGas solution includes:

Vehicle conversion equipment and labor
Fueling station on-site at fleet base
Safety and operational training for fleet personnel
Year-round fuel provision
Ongoing technical support
The new Alliance AutoGas partners were selected for their strong market presence and reputation for quality service. They are:
Fort Worth Bottled Gas (Fort Worth, TX)
Green's Blue Flame (Houston, TX)
Blue Star Gas (California and Oregon)
Palmetto Propane, Inc. (Leesville, SC)
Proulx Oil and Propane (Newmarket, NH)
By adding these five fuel providers to its partner network, Alliance AutoGas demonstrates an ongoing commitment to build the nation's most robust, viable alternative fuel solution for America's fleets. These new partners will help fleets of taxis, law enforcement and municipal vehicles, limousines, utilities and others switch from conventional gasoline to propane AutoGas. Fleets that convert to propane AutoGas can expect:
Lower fuel costs
Significantly reduced greenhouse gas emissions
Less dependence on foreign oil (90% of propane is produced in the U.S.)
Ability to integrate positive green messaging into their communications
Alliance AutoGas provides a truly turn-key solution that has fleet managers across the country committing to use a clean, domestically produced alternative fuel that is here now. For more information about Alliance AutoGas: http://www.allianceautogas.com.
General questions about Alliance AutoGas should be directed to David Finder, Energy Program Manager at Blossman Gas, Inc. - (828) 251-0027.
Media inquiries should be directed to Shelby Stephens at MSM Communications - (512) 524-5456.
# # #