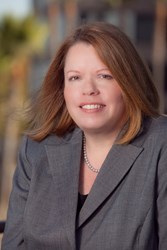 Diana has been instrumental in laying a sound administrative foundation for Alliant as we reach new industries and broaden our service profile.
Newport Beach, CA (PRWEB) December 03, 2013
Alliant Insurance Services (http://www.alliant.com), the nation's largest specialty insurance brokerage firm, has announced that its Chief Administrative Officer, Diana Kiehl, has been named one of 2013's Women to Watch by Business Insurance. Kiehl was honored for her role in creating innovative company policies and best practices to support Alliant's significant growth and expansion.
"Diana has been a stalwart on the Alliant team since 1991, rising from her initial position as an associate producer to an influential member of our executive team," said Tom Corbett, Alliant's Chairman and CEO. "Her leadership and innovation are a testament to Alliant's time-honored commitment to professionalism, entrepreneurialism, and service."
As Chief Administrative Officer, Kiehl is responsible for broadening Alliant's sales and service best practices across all of the organization's specialty groups and practices. Kiehl oversees all aspects of Alliant's administration, including human resources, marketing and corporate communications, and risk management.
"Diana has been instrumental in laying a sound administrative foundation for Alliant as we reach new industries and broaden our service profile," said Corbett. "She is the true embodiment of the Alliant way and an inspiration to a dynamic and growing number of female business leaders in our industry."
Business Insurance's Women to Watch program spotlights 25 women who have demonstrated outstanding work in commercial insurance, reinsurance, risk management, employee benefits, and related fields. Winners are selected by a panel of senior editors at the publication according to various criteria, including recent professional achievements, influence on the marketplace, and contributions in the advancement of women in business. The honorees were announced at the December 3 Women to Watch Leadership Workshop and Awards Luncheon in New York.
Kiehl joins a growing community of Women to Watch honorees from Alliant, including 2012 honorees Reshma Dalia, Senior Vice President of Operations and Finance for Alliant's Construction Services Group, and Mandy McNeil, Senior Vice President and Director of Alliant-owned consulting firm Moore-McNeil.
About Alliant Insurance Services
Headquartered in Newport Beach, CA, Alliant Insurance Services, Inc. is one of the largest insurance brokerage firms in the United States and has a history dating back to 1925. Alliant provides property and casualty, workers' compensation, employee benefits, surety, and financial products and services to some 20,000 clients nationwide, including public entities, tribal nations, healthcare, energy, law firms, real estate, construction, and other industry groups. More information is available on the company's web site at: http://www.alliant.com.