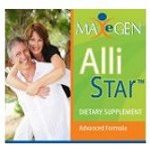 Many people purchase nutritional supplements such as garlic to support good health. Unfortunately, many of those supplements either lack the quality ingredients
Tampa Bay, FL (PRWEB) January 25, 2012
Heart Disease – It's the number one killer in the US. And the the linkage of Uncontrolled Hypertension to heart disease is well established. Although the US National Library on medicine has published research showing aged garlic extract is superior to placebo in lowering systolic blood pressure similarly to current first line medications in patients with treated but uncontrolled hypertension, LHN say the choice of Garlic Supplements matters. They believe their AlliSTAR product is a superior choice for consumers wanting to try a Garlic supplement.
"Many people purchase nutritional supplements such as garlic to support good health. Unfortunately, many of those supplements either lack the quality ingredients required to get good results, or the products contain additional exipients that may actually do more harm than good," says Russell Bly, Chief Operating Officer of Liberty Health network, LLC (LHN).
Bly went on to say, "Take the top Garlic supplement in the US, and you'll find Titanium Dioxide, Sodium Lauryl Sulfate, Polypropylene Glycol, and more. Frankly, those chemicals scare the heck out of me. I am proud to say that none of the above exipients are in our AlliSTAR product. At LHN, we feel what helps you, shouldn't hurt you. Why would you take a chance adding chemicals to your daily supplement that have compounds that require workers to wear protective gear just to handle?"
A recent review of randomized controlled trials in humans found that Garlic supplementation (standardized dehydrated Garlic powders and various non-standardized preparations alone or in combination with other ingredients) may reduce levels of total cholesterol, triglycerides, and low-density lipoprotein (LDLs), as well as platelet aggregation (which causes blood thickening) in the short-term compared with placebo or no Garlic supplementation according to the Agency for Healthcare Research and Quality from the US Department of Health and Human Services.
Garlic supplements are among the most popular herbal remedies that American consumers pay more than $5 billion for each year. For a limited time however, LHN has announced drastic price reductions on their Amazon.Com AlliSTAR Page so more consumers can experience the benefits of their product. How much of a reduction can be expected in the $5 billion dollar expenditure due to LHN's massive promotional discounts remains to be seen. LHN is confident however, that consumers will appreciate the price drop and feel more secure with the quality of the AlliSTAR product.
About Liberty Health Network , LLC.
Liberty Health Network is one of the nation's leading Direct and Internet Marketing companies with a state-of-the-art Global Distribution facility in Tampa Bay, Fl. For 12 Years, the Liberty Health Network name has been synonymous with high quality Mortechem-Free Nutritional Supplements, Skin Care and Web Applications.
Liberty Health Network distributes products and services Internationally. Businesses or Individuals interested in distributing Liberty Products or requiring more information should contact Chief Operating Officer Russell Bly at (813) 774-8191. The statements made on this website have not been evaluated by the Food & Drug Administration. These products are not intended to diagnose, prevent, treat, or cure any disease.
###