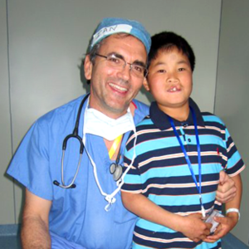 The look on the mother's face is an incredible, emotional experience
Orange, CA (PRWEB) June 24, 2013
Two Allied Anesthesia physicians travel to remote areas of the world to repair cleft lip deformities on children in developing countries.
Dr. Cliff Char just returned from Nicaragua and Dr. Ian Chait will be leaving again in the fall to volunteer with Operation Smile, an international children's medical charity that treats thousands of children with cleft lips and palates every year.
Children born with a cleft lip or palate oftentimes are unable to eat, speak, smile or socialize. In many countries, they become outcasts.
A simple surgery can change the child's life forever.
Through Operation Smile, Char and Chait join a team of medical professionals from around the world for two-week missions. During that time, they typically perform 100 to 150 surgeries. They also train local medical practitioners in an effort to create self-sufficient, sustainable solutions.
The organization assembles and ships the necessary medical equipment including monitors, supplies and surgical instruments to the hosting hospital. The equipment is shipped back at the conclusion of the mission.
"Operation Smile is a very well-run organization that is really making a difference in people's lives," said Chait, who has performed missions in Morocco, Peru, China, Egypt and the Philippines. He usually goes in the spring and the fall.
The rewards are priceless.
"It's an incredible feeling when you take a kid to the recovery room and the mother comes in and sees the kid with the defect having been repaired," Chait said. "The look on the mother's face is an incredible, emotional experience."
Chait's colleague, Char, performs three or four missions a year with various humanitarian organizations including Operation Smile. He has been to India, Ethiopia, Kenya, Morocco, Egypt, Nepal and, most recently, Nicaragua.
Char's Christian faith and the overwhelming need drive him to volunteer.
"There is so much need out there and the amount of work we do is a lot but it's so small when put in the big picture," Char said. "There's just so little we can give and we get such huge benefits in return."
Char and Chait aren't the only Allied Anesthesia physicians who volunteer their services. For example, several anesthesiologists have participated in fund-raisers for Access OC, which provides surgical care to Orange County's most vulnerable residents.
About Allied Anesthesia: With 48 highly qualified anesthesiologists on staff, Allied Anesthesia provides adult and pediatric anesthesia services to St. Joseph Hospital of Orange, CHOC Children's Hospital and many other Southern California healthcare facilities.
Allied specializes in pediatric anesthesia, performing approximately 12,000 pediatric anesthetic procedures a year. All of the group's anesthesiologists have extensive experience in the care of pediatric patients. All Allied anesthesiologists are board certified, and they staff and manage the most efficient operating rooms in Southern California.
Allied is a member of the California Society of Anesthesiologists and the American Society of Anesthesiologists.
For more information, visit http://www.alliedanesthesia.com.