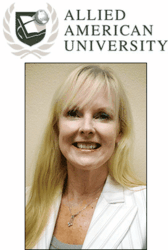 Online degree programs are my passion.
Laguna Hills, CA (PRWEB) October 17, 2012
Allied American University (AAU), an accredited online college that offers online associate and bachelor's degrees to students worldwide, is pleased to announce the addition of Dr. Bonny Nickle, Ed.D. as university Provost.
In her role as Provost, Dr. Nickle will serve the university and its students by defining and implementing standards for the hiring and performance of the university faculty, formulating and administering academic policies, and maintaining academic and educational integrity by way of the evaluation of student learning and continuing academic improvement.
"Online degree programs are my passion and I strongly believe that AAU provides an exceptional education experience for our students. I am so happy to be associated with an institution of such high quality and academic integrity," said Dr. Nickle, when asked what made her choose Allied American University.
AAU President Charli Hislop is equally happy to have Dr. Nickle on board. "Not only does she have experience in both online and brick-and-mortar education, she brings with her a unique and valued perspective on the success and achievement of students pursuing a degree in today's ever-changing academic environment," she said.
"Dr. Nickle's expertise will serve well toward our mission to foster an academic environment that promotes information literacy, career advancement, personal enrichment, leadership and service to the community."
The arrival of Dr. Nickle comes at an exciting time for the university, which was recently approved to offer federal college aid, such as Pell Grants and Federal Direct Stafford Loans. Along with budget-friendly tuition rates and low easy- to-manage monthly payments, the addition of federal college aid goes a long way toward providing an economically viable and affordable solution to procuring a higher education degree.
Dr. Nickle earned her MBA from National University and her Doctorate from Pepperdine University. Her doctoral dissertation was on the subject of online learning, with a side-by-side focus of the perceptions, attitudes, outcomes and experiences of students and faculty members in both online and classroom-based learning programs.
"There's been so much that has happened in online learning since I first started writing my dissertation in the early 1990s," she said. "It's incredible. The type of programs and products we can provide for our students with all of the rich media and the resources on the web and all of the materials developed by the publishers to make sure the students are really engaged in the learning process are just wonderful."
Allied American University is an accredited online college that provides bachelor's and associate degrees for today's in-demand careers. The programs at AAU are 100% online, flexible and student-focused. In addition, AAU offers several options for federal college aid. And with a variety of military education benefits for active-duty members, military spouses and veterans, AAU was honored to be listed as one of the top Military Friendly Schools® for the 4th consecutive year.
For more information, visit http://www.allied.edu/academics/leadership/ or call (888) 384-0849.