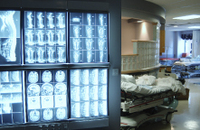 The healthcare provider shortage is not limited to just nursing, this is just the next step we need to take as a company dedicated to helping hospitals deliver great patient care
Omaha, NE (PRWEB) November 28, 2007
The allied health shortage, although not as well publicized as the nursing shortage, could have just as significant impact on patient care in the United States in the coming years.
According to the U.S. Department of Labor, 60 percent of the American healthcare workforce is made up of allied health professionals. The allied health provider shortage is predicted to reach 1.6 million to 2.5 million allied health workers by 2020. The supply of qualified allied healthcare providers is shrinking at the same time as the demand for healthcare is increasing thanks to a decade long decrease in enrollment in allied health schools and educational programs.
The nursing shortage has been a much discussed and publicized problem the last several years and for good reason. Approximately 80 million baby boomers in the United States are reaching retirement age and placing an increasing strain on the shrinking nursing pool. By 2014 there will be a need for 1.2 million new and/or replacement nurses. Coupled with the allied health shortage there is serious concern about the future state of healthcare in the United States.
The allied health field is comprised of healthcare providers who are not doctors or nurses, some of the specialties comprising this field are Cardiovascular Technologists, CT Technologists, MRI Technologists, Nuclear Medicine Technologists, Occupational Therapists, Occupational Therapist Assistants, Occupational Therapist Assistants, Physical Therapists, Physical Therapist Assistants, Polysomnography Technologists, Radiology Technologists, Radiation Therapists, Respiratory Therapists, Speech-Language Pathologists and Ultrasound/Vascular Technicians. Of the 30 fastest growing occupations in the labor market, more than half are in the allied health field. The Bureau of Labor Statistics predicts a need for 5.3 million healthcare workers to fill job openings created by departures and new positions.
Similar to the nursing shortage, the allied health professionals shortage will negatively affect patient care by placing strain on an already stressed pool of workers. In order to address this issue steps are being taken by the federal government such as the Allied Health Reinvestment Act of 2007, which is aimed at offering financial assistance to individuals interested in an allied health profession. There are also statewide and local efforts like the "Make It In Scrubs" campaign by the California Wellness Foundation that is addressing the problem at the ground level with a campaign focused on recruiting and educating young people in California about the healthcare industry.
Another important avenue many hospitals are taking to bring in quality allied healthcare professionals is the use of travel allied health professionals. During the last decade hospitals have increasingly turned to healthcare staffing companies to address a demand for nurses. This trend has led a few staffing companies to also see the importance of providing hospitals with allied health professionals in order to help hospitals continue to provide great patient care.
Medical Solutions, a healthcare staffing company located in Omaha, NE that has been providing hospitals nationwide with travel nurses since 1997, is one such company. Medical Solutions has been staffing allied health professionals since 2002 whenever one of their hospitals would submit a need in that area. But now their establishment of an Allied Health Division introduces a higher level of commitment to meeting that demand. Jeff Casper, Medical Solutions Director of Allied Health sees the launching of an Allied Health division with specialized Recruiters and Client Managers, as an important element of Medical Solutions' responsibility to establish a travel healthcare company that can meet all the needs of a hospital.
"The healthcare provider shortage is not limited to just nursing, this is just the next step we need to take as a company dedicated to helping hospitals deliver great patient care," said Jeff Casper, Medical Solutions Director of Allied Health. Prior to the launch of the Allied Health Division Casper served three years as Director of the Medical Solutions Client Division and has seven years experience in the healthcare staffing industry.
The addition of a dedicated Allied Health division means that Medical Solutions can provide a higher level of expertise about the allied health field, whether they are interacting with an interested traveler or a hospital with staffing needs. It also allows the Nursing Division of their company to concentrate on serving the unique needs of nurses and hospitals with nurse staffing needs.
"Being able to focus solely on either allied health or nursing really frees up our Recruiters and Client Managers to concentrate on providing great customer service to our clients and travelers without having to switch their focus between the two disciplines," said Craig Meier, Medical Solutions Director of Nursing.
In addition to a dedicated Allied Health Division, Medical Solutions has also created a new Allied Health section of its website, MedicalSolutions.com. The new section includes a dedicated job listing for allied health professionals and a wide collection of info and resources about the travel allied health industry.
"Our goal is to address the allied shortage by providing allied health professionals with a resource they can use to help them further their careers and explore travel opportunities," said Jeff Long, Medical Solutions Marketing Manager.
About Medical Solutions, Inc.
Medical Solutions, Inc. was one of the first travel nurse and allied healthcare staffing companies to be JCAHO certified. Its focus is on meeting the urgent and short-term staffing needs of its clients with highly skilled allied health professionals, nurses and technologists. A nationwide network of travelers allows Medical Solutions to help its client hospitals continue to provide excellent patient care amidst a nationwide nursing and allied health shortage. Medical Solutions provides travelers to more than 700 client hospitals nationwide and is one of the fastest growing companies in the travel nursing and allied health industry. Visit MedicalSolutions.com to learn more.
###