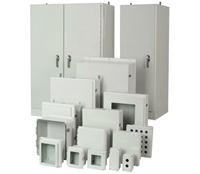 Riverside, CA (PRWEB) November 23, 2009
Allied Moulded's extensive line of NEMA fiberglass enclosures for indoor and outdoor use with sizes ranging from small 6" x 6" x 4" enclosures to freestanding 72" x 49" x 25" cabinets and accessories are now available for purchase online at Solution Directs Online. These non-metallic enclosures provide a cost-effective solution to specialized equipment protection requirements for a variety of applications.
Fiberglass enclosures, or FRP (fiberglass reinforced polyester) enclosures, are weatherproof, easily modified, can be in used in a wide variety of applications and have a high strength-to-weight-ratio. These enclosures offer maintenance-free protection while being rainproof, windproof, dustproof, grease-proof, and are highly resistant to flames, cold, heat, corrosion, UV radiation, and oil. Fiberglass is also an electrical insulator, which helps to protect internal electrical and electronic equipment against electrical shock. Fiberglass enclosures can be used in many industries such as utilities, waste water treatment, pump OEMs, mining, and car washes. Some applications for fiberglass enclosures include: wireless communications, SCADA systems, control panels, odor control, grinder pump controls, chemical injectors, sludge conditioners, desalination controls, chlorinators, water recycling, air door controls, washing equipment, flow controls, flow metering, liquid level controls, equipment recorders, gas detectors, coal analyzers, air pollution monitors, petrochemical analyzers, solar panel battery storage, wind turbine control panel, radio phones, elevator controls, air monitoring analyzers, and emergency lights and sirens. Allied Moulded's enclosures are UL listed, CSA certified, compliant to at least NEMA 4 and 4X.
Enclosures from Allied Moulded are available in many sizes. Small pushbutton enclosures with lift-off screw covers can be ordered with factory-made holes 22.5 mm or 30.5 mm in diameter. Enclosure sizes from 6" x 6" x 4" to 20" x 16" x 8" can be ordered with lift-off screw covers, hinged screw covers, twist latch hinged covers, or snap latch hinged covers. Enclosures in this range can be purchased with solid covers, covers with polycarbonate windows, or clear polycarbonate covers. Larger enclosures from 24" x 20" x 9.75" to 30" x 24" x 11.75" can be ordered with twist latches or snap latches, and windowed covers are available. Allied Moulded's largest enclosures are the Empire Series which include 36" x 30" x 12" wall-mount enclosures and 72" tall freestanding enclosures. Enclosure hinges, latches, screws, and hinge pins are made of corrosion resistant 304 stainless steel. Internal back panels are made of aluminum, painted carbon steel, galvanized steel, or fiberglass and sold separately. Other accessories include pole mount kits and aluminum hinged front panels. Allied Moulded also offers holes/cutouts, molded-in color, EMI/RFI shielding, and silk screening as custom modifications. Please call Solutions Direct at (888) 886-8185 for more details and pricing information.
Solutions Direct Online has designed its website with industrial customers in mind, so links to related products and technical details are available on every page. In order to ease navigation, Solutions Direct Online has also divided Allied Moulded's non-metallic enclosures so that customers are able to easily navigate through the website to find the enclosure that they need. Enclosures are divided by size and by cover style; there are many enclosure accessories available as well. Product pages for each enclosure have everything a customer would need to know about the enclosure before specifying it in an application: technical details such as industry ratings and CAD drawings are available on each page.
Founded in 1958, Allied Moulded has more than 50 years of knowledge and experience in molding fiberglass reinforced materials and is well known within the electrical industry as a quality manufacturer of non-metallic electrical products. Allied Moulded manufactures a full line of NEMA Type 4X fiberglass enclosures offering all the advantages of non-metallic materials including: increased strength, reduced weight, corrosion resistance, non-conductivity, cost savings, and ease-of-installation. These enclosures are made in the U.S.A. and installed in hundreds of demanding applications in dozens of industries worldwide. Allied Moulded's commitment to quality and innovation is well known throughout the electrical industry.
About Solutions Direct Online:
Solutions Direct Online is an online distributor that provides technical products for industrial customers, and strives to provide the highest quality products at affordable prices. Some of the products offered include fiberglass enclosures, fixed-mount infrared sensors, handheld infrared thermometers, manometers, material testing equipment, metal enclosures, polycarbonate enclosures, pressure sensors and gauges, temperature controllers, scales, and balances.
Contact Information:
AJ
Solutions Direct Online
(888) 886-8185 8 a.m. to 5 p.m. P.S.T., Monday through Friday (after-hours voicemail)
info (at) solutionsdirectonline (dot) com
###