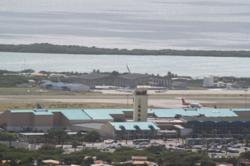 Allied Steel Buildings expert logistics team helped bring this project to its ultimate success..
(PRWEB) July 31, 2012
At Reina Beatrix Aruba Airport, big developments are in the works for Tiara Air Aruba. In addition to adding a Boeing 737-300 to their fleet, they recently celebrated the opening of a large 131x98x31 pre-engineered hangar purchased from Allied Steel Buildings. The structure was designed specifically for their new Boeing 737 to receive routine maintenance. The project is part of an expansion to the South Side Terminal, which also includes an identical 131x98x31 hangar, new aprons and alternative runways. With tourism continuing to rise on the island, Tiara Air is working with the Aruba Airport Authority N.V. to reach new markets and make the island more accessible.
The Muyale Family formed Tiara Air in 2006, after providing "ground handling" services to the Reina Beatrix Airport for over 30 years. CEO Alejando Muyale saw an opportunity for a national airline and successfully applied for a certification with the Department of Civil Aviation. He then purchased a fleet for Tiara Air with the intention of starting small and working up to larger markets. With the addition of the Boeing 737 and hangar, Tiara Air is expanding their routes immediately. New destinations will be added in Colombia, Venezuela and the United States.
The hangar provided by Allied Steel Buildings is one of the largest on the island with 12,838 sq. ft. of clear span space. It is complete with office space, storage space, features dust repellent floors and a state-of-the-art fire suppression system. The spacious hangar is easily accessible, Tiara Air's Boeing 737 can comfortably maneuver in and out for maintenance required by regulators; the structure also provides security from harsh elements. Tiara Air chose Allied Steel Buildings because they are experts in modern hangars for civilian, military and commercial applications. They are durable and prefabricated with reduced material. The steel hangars support minimum construction costs and are readily equipped with fire suppression and detection systems. Chris Rucker, Allied Steel Director of International Accounts said, "There were many challenges that came with delivering a project of this size internationally, our expert logistics team helped bring this project to its ultimate success."
With prudent planning, Tiara Air is transitioning into an international competitor. At the same time, Tiara Air has equipped a Learjet 35A as an Air Ambulance. It contains the most advanced equipment available to provide safe and economical service to patients. Tiara Air seeks to capture new markets in the future with their exceptional service and have remained true to their start-up strategy, not wavering from their slogan "On Time, Accommodating and Sympatico."
About Allied Steel Buildings: Allied Steel produces superior pre-engineered steel buildings at affordable prices for every application including aviation, industrial, agricultural and residential steel buildings. Call an Allied professional at (877)997-8335 or visit http://www.alliedbuildings.com for steel building prices and rates.