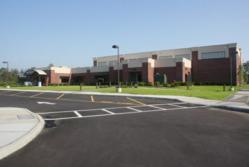 I was expecting seven or eight days to gets this thing going, I drove by two days later and thought 'Oh wow, the frame is already complete!
(PRWEB) July 31, 2012
The vision began in the 1980's and will soon become a reality in the Bellport area of New York. Founded in 1965, the Bellport Area Community Action Committee Inc. (B.A.C.A.C.) sought ways to help the area youth with a community center and activities for children. It was clear that they needed a larger facility to grow their program. In 1996, they became affiliated as the Boys & Girls Club of the Bellport Area. The same core goals remained, "To inspire and enable all young people, especially those who need us most in the Bellport Area and increasingly from the South Shore, to realize their full potential as productive, responsible and caring citizens." On August 14, 2012, The Boys & Girls Club of the Bellport Area will open the doors to their new 28,000 sq. ft. clubhouse.
The Boys & Girls Club of America reaches 4.1 million young people through community and membership outreach. In the Bellport area, numbers are humbled, but the visionaries haven't stopped pushing for more. Don Kolacki, RA, Architect for Gary D. Cannella Associates, has been involved with this project from the beginning. He stated, "There were very few people in the 1980's, I'm a resident of the community and I was contacted in trying to create this building, they didn't have any land or money and there weren't a lot of ideas." Through a purchase and lease of land from the town of Brookhaven, New York stands the almost completed clubhouse. Kolacki planned and designed the facility; he insists, "They're very tenacious and dedicated to the people who finally got this thing going…Bellport is a community that with the right cause, you can raise money and they just did. The project is roughly four million dollars."
Proper planning has been advantageous in keeping the costs down. The new clubhouse backs up to a town park, which means outdoor facilities were not needed. Kolacki reports, "It's a perfect marriage between us and the town." Kolacki also designed the new facility with prefabricated steel, reducing costs significantly between raw materials and construction. They purchased the structural steel from Allied Steel Buildings, an effective cost solution to traditional materials and much faster to erect. Mara Contracting won the construction bid and a couple days after the ribbon cutting ceremony Kolacki was shocked when he drove by the construction site. "I was expecting seven or eight days to gets this thing going, I drove by two days later and thought 'Oh wow, the frame is already complete!'" Kolacki explained.
The new clubhouse is 28,000 sq. ft. of state-of-the-art amenities, including learning centers, a full-sized gymnasium, community room, teaching kitchen, computer lab and teen center. Capacity is estimated for 600 people, significantly larger than what they can reach at this time. Executive Director of the Boys & Girls Club of The Bellport Area, Tracie Romandetti noted, "We've currently been operating in a 2,000 sq. ft. building while construction is underway. It's very exciting to see, it's been a long time coming." With the Ribbon Cutting Ceremony scheduled for August 14th, 2012, that time is very soon. For a facility of this size, they are expecting approximately 350 members to attend daily. The new clubhouse will allow them to reach many more young people of the Bellport area and provide a positive and caring environment.
About Allied Steel Buildings: Allied Steel produces superior pre-engineered steel buildings at affordable prices for every application including aviation, industrial, agricultural and residential steel buildings. Call an Allied professional at (877)997-8335 or visit http://www.alliedbuildings.com for steel building prices and rates.