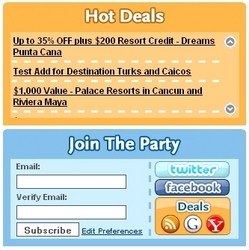 The biggest thing is that our best deals can now be found in a single location
Lexington, KY (PRWEB) August 6, 2009
All Inclusive Outlet, a leader in online travel sales, announced today its launch of a brand new travel deals section which caters to a growing number of bargain hunters and deal shoppers in search of an all inclusive vacation. The new All Inclusive Outlet Hot Deals section features the latest travel deals along with convenient syndication features that make it easy for bargain shoppers to stay current.
Visitors will be able to filter travel deals by interest and even have them syndicated to their iGoogle page, MyYahoo page or any RSS reader. Deals are also "tweeted" instantly to anyone who follows All Inclusive Outlet's Twitter account.
"The biggest thing is that our best deals can now be found in a single location," says Tom Carr, founder and president of All Inclusive Outlet. "These deals come to us and we add our own huge discounts. That makes it quite the find for travelers in search of a bargain."
Karl Persson, The IT Director at All Inclusive Outlet, led the development of features that make it easy for visitors to stay updated on the deals.
"These promotions are very good, and I wanted our exposure to reflect that," says Persson, "By using a variety of social media channels, we can bring these deals to our customers instead of making them come to us.
In tandem with general RSS and Twitter integration, the deals section features unique integration with iGoogle and MyYahoo, which allows visitors to see deals from All Inclusive Outlet on their personalized search page. The idea is that visitors can browse the latest travel deals along with their daily news and weather.
The launch of All Inclusive Outlet's deals section comes in a series of website upgrades aimed at catering to the various kinds of online vacation shoppers. The "Vacation Assistant," released several months ago, is an interactive guide to help visitors find the resorts that match their vacation preferences.
"We're always asking ourselves 'What does the customer want?'" Carr says. "These features are simply the answer to that question." All Inclusive Outlet specializes in discount, all inclusive vacations to destinations such as Mexico and the Caribbean.
# # #