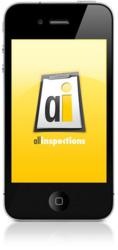 Clearwater, FL (PRWEB) September 30, 2011
Every day thousands of inspectors perform and generate thousands of inspection reports, consuming lots of time and paper and leaving inspectors vulnerable to the loss of important data. To combat this, allinspections, a product of Izon Analytics, Inc. based in Clearwater, Florida, is bringing inspections to the cloud with their new mobile app.
After talking with hundreds of inspectors, allinspections found they were not only spending hours in the house writing notes and taking pictures, but returning to their home or office to type the notes, scan pictures and signatures, compile the report, and then mail it out. allinspections is conquering this challenge with their new app aimed at inspection reporting. The app already supports Four Point, Roof Certification, Wind Mitigation, Wood Destroying Organisms (WDO), and Full Home Inspections, and they plan to crank out even more inspection reporting features and types in the coming year.
The app is made for the iPhone, iPad, and Android devices, and inspectors can access their account on allinpections.com. The best part is, all the data and pictures sync to the cloud. Plenty of inspectors have shared stories of crashed hard drives and lost papers, leaving them scrambling for assistance or lost without a solution. allinspections allows the account and report data to be stored and synced regardless of whether it is updated by the office assistant on the PC or the inspector on his smartphone in the field. That means the most relevant information is stored and in the hands of the inspector as soon as it is synced. When the inspection is complete, a PDF report can be generated and emailed. If the computer or device breaks, the inspector needs only to get access to another computer or device and login.
allinspections is spreading the news and traveling to tradeshows nationwide including their next stop at the Casey, O'Malley Conference in Las Vegas, October 2nd - 6th. They are trying to get as much feedback from inspectors as possible in order to fully develop and grow the solution.
To find out more about the app, the company, or find their tradeshow schedule, visit http://www.allinspections.com.
###