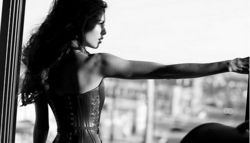 Working on The Fashion Show: Ultimate Collection was inspirational and uplifting. Everyone was passionate about their artistic vision and had to be fearless about presenting it to the world. I admired each designer for their bravery and ambition
Santa Monica, CA (PRWEB) November 9, 2010
ALLISON the Model will walk the runway in Bravo TV's The Fashion Show: Ultimate Collection, to premier on Tuesday, November 9, 2010 at 10pm/9 Central. The show is hosted by fashion icon Iman and Isaac Mizrahi, internationally acclaimed designer. Contestant creations will also be judged by Laura Brown of Harper's Bazaar.
The first of its kind, The Fashion Show: Ultimate Collection will push contestants to create a fashion forward line and compete for a $125,000 prize, provided by TRESemme® Professional Hair Care. This fashion house duel will split 12 talented men and women into two fashion houses and each "house" must work together, not only to create a cohesive collection each week, but also to produce a live fashion show showcased by top models, like ALLISON.
"Working on The Fashion Show: Ultimate Collection was inspirational and uplifting. Everyone was passionate about their artistic vision and had to be fearless about presenting it to the world. I admired each designer for their bravery and ambition," states ALLISON.
ALLISON and other fashion models are the inspiration behind the designers' creations. Living in New York and originally from Philadelphia, Allison's African American and Colombian ancestry embodies diversity and unity, qualities coveted in the fashion world. "It is so exciting being a talented designer's muse. Each time I head down the runway, I feel so honored to be showing such wonderful, wearable art. Every day I am learning and meeting new people who inspire me to be a better fashion model," points out ALLISON. "Talent is so sexy!"
ALLISON is known in the industry as a consummate professional, exhibiting a strong work ethic and intelligence that goes beyond ideal measurements, natural beauty, a healthy physique, and modeling talent.
ALLISON will also be featured in the latest TRESemme® campaign commercials slated to air during the show.
For more information about ALLISON, visit AllisonTheModel.com.
About ALLISON the Model:
Beauty and brains, ALLISON earned her Bachelor's degree in finance from Adelphi University in 2008. She enjoys traveling, running, being with friends and horseback riding. Currently residing in New York, she has worked the runway for elite designers Tommy Hilfiger, Carolina Herrera, Zac Posen, Donna Karan, Brunello Cucinelli and others.
Height: 5' 10"
Dress Size: 2/4
Bust: 33
Waist: 24
Hips: 34
Hair: Brown
Eyes: Brown
Shoe: 9.5
###