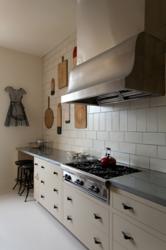 We are going for a timeless, modern take on an old school room. We have added modern amenities that today's family would use and love.
San Francisco, CA (PRWEB) April 26, 2012
Marin based interior designer Allison Bloom seems to be springing up everywhere lately. Feverishly preparing for the upcoming Dwell and Marin Magazine home tour of her Mill Valley home this April 28-29 and preparing a room for the 2012 San Francisco Decorator Showcase, opening April 28 and running through May 28, 2012, her fun and stylish design is cultivating a following.
Allison Bloom of Dehn Bloom Design is partnering with Tinsley Hutson-Wiley Interior Design on a pantry in this grand Classic Revival house for the 2012 San Francisco Decorator Showcase. Presented with the challenge of a dark and narrow pantry off the formal dining room, Bloom and Hutson-Wiley create a highly useful and cheeky take on a pantry for a contemporary family that respects the history and tradition of the houses' design yet integrates modern amenities and clean lines.
Utilizing local vendors, Allison and Tinsley have created a pantry any butler (or family) would love. Sausalito based Heath Ceramics supplies neutral beige subway tiles in a matte finish that act as a highly functional and stylish backsplash to the newly installed gas range, brushed stainless steel hood and counters. Sourcing kitchen accessories from March on Sacramento Street, March has supplied a variety of sizes and shapes of cutting boards that do double duty as both wall art and cooking tool. Spinneybeck supplies the chic drawer pulls in a dark brown leather, that are easy to grasp and hold up to daily use. Decorative painter Willem Racké painted on the opposite pantry wall a full size Union Jack flag, but in the brown and beige palate of the room, adding a dose of fun to the functionality of the space. Allison says, "We are going for a timeless, modern take on an old school room. We have added modern amenities that today's family would use and love."
The 2012 San Francisco Decorator Showcase is open from April 28-May 28, 2012 at 2020 Jackson Street in San Francisco. The house is open everyday of the week except Mondays. The hours are: Tuesday, Wednesday, and Saturday: 10:00 a.m.–3:00 p.m. (last entry), Thursday and Friday: 10:00 a.m.–7:00 p.m. (last entry), Sunday and Memorial Day: 11:00 a.m.–4:00 p.m. (last entry), CLOSED MONDAY (except Memorial Day).
Tickets are $30 each, seniors $25. More information on this annual charitable event benefiting the University High School scholarship fund, can be found at http://decoratorshowcase.org/
To see more of Allison Bloom's design aesthetic, check out The Dwell and Marin Magazine Home Tour taking place April 28 and 29, 2012. For more information about this exciting home design event, visit http://dht.dwell.com/homes/mill-valley-loft
About Allison Bloom
Allison Bloom's interior designs are formed by the intersection of science and beauty. As a native of Seattle and a student of environmental science, Allison's interiors blend an upscale sophistication with a connection to the natural world. Allison's designs are thoughtful, warm, contemporary, and engaging, with a focus on how they will be experienced by the client. Allison follows research in the fields of aesthetics, atmospherics, and eco-psychology because she is fascinated by the impact that interiors have on health and cognition. Allison believes that the cultivation of beauty in interiors and surroundings is an essential component of well-being.
Allison is an alumna of Remodelista, where she worked in both a brand-marketing and editorial capacity. She founded her San Francisco based design firm, Dehn Bloom Design, in 2010. Allison is a graduate of Stanford University and a mother of three. Her design work can be viewed at http://www.dehnbloomdesign.com .