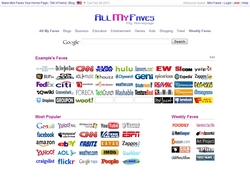 "We took the opportunity of redesigning the site to maximize users' site discovery and personalization experience"
(PRWEB) February 9, 2011
All My Faves revealed the new design of allmyfaves.com and its various content pages this week. The new design achieves increased functionality and offers quick and easy navigation to users accessing their personal "MyFaves" accounts as well as AllMyFaves' various pages.
According to AllMyFaves' Co-Founding brothers Roy and Shachar Pessis, the new design is not merely an aesthetic upgrade. "We took the opportunity of redesigning the site to maximize users' site discovery and personalization experience," says Shachar. Thanks to the new design, users can now directly access topic-specific source pages called Mini Faves (including Art ,Entrepreneurship, Design, Style, Green, Lifestyle and many others). "Each of these includes sites the user will be familiar with, alongside high quality sites he or she will be discovering for the first time," stated Roy Pessis.
AllMyFaves' most recent development, MyFaves, is a visual bookmarks personalization tool allowing users to create a logo-based showcase of all their Web favorites, easily accessible and manageable in one clean page. With over 100K active users thus far, the MyFaves feature is particularly suitable for tablet and touch-screen devices.
About All My Faves
allmyfaves.com is a free visual gateway to the Web listing the best sites in various categories, and has over five million monthly visits. In addition to the homepage where the most practical categories can be found (such as news, weather, email and video), All My Faves offers designated pages for blogs, business, education, games, kids, travel, video and shopping. AllMyFaves' most recent feature, MyFaves, allows users to create their very own homepage made up of a visual display of all their bookmarks and favorites in one easily accessible page.
To learn more about All My Faves and its various features please contact Annat Katz, All My Faves' Marketing Manager: annat(at)allmyfaves(dot)com
All My Faves official website: http://www.allmyfaves.com
Sign Up to MyFaves: http://www.allmyfaves.com/user/join
MyFaves page example: http://www.allmyfaves.com/example
# # #