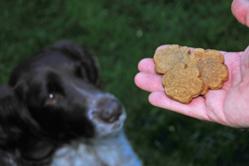 "Dog trainers who use our all-natural, gluten-free dog food asked for an easy-to-feed dog treat."
MERIDIAN, Idaho (PRWEB) June 27, 2011
A wheat-free, corn-free all-natural dog biscuit has been introduced by Dynamite Specialty Products, which has been making all-natural dog food and animal feed for four generations.
"We had requests for healthy dog biscuits because so many dog treats have questionable ingredients, including chemical preservatives such as BHA (butylated hydroxyanisole), BHT (butylated hydroxytoluene) and ethoxyquin," said Callie Novak, Dynamite CEO.
"Because of recent increases in dog allergies, many people are looking for corn-free, wheat-free and gluten-free dog food," she added. "Dog treats with cereal grains such as wheat and corn cause a variety of dog allergies, including itchy skin and ears, and excessive weight gain.
"Several dog trainers who use our all-natural, gluten-free dog food, asked us for an easy-to-feed healthy dog treat to use in training sessions," she added. "They also needed a treat that will avoid triggering dog allergies.
If Dynamite's healthy dog biscuits are offered regularly, Novak recommends reducing the amount of dog food at meals to avoid weight gain.
The recommended amount of the natural dog biscuits is one to two dog biscuits for breeds up to 25 pounds, two to four per day for breeds 25 to 50 pounds, and five to six of the healthy dog biscuits per day for large breeds. The gluten-free dog food, as well as all other Dynamite animal feeds, is formulated according to standards of the American Association of American Feed Control Officials, Inc.
"The recommended amount of our natural dog biscuits is small enough that a dog is not likely to gain weight," Novak said. "However, all canines are different and need to be watched for weight gain if dog treats are offered on a consistent basis."
The paw-shaped, natural dog biscuits cost $19.95 for a 2.5-pound bag.
Dynamite's all-natural dog foods are corn-free, wheat-free and gluten-free. Its Ultimate Dog Food is perhaps the only raw dog food on the market that needs no refrigeration.
A family-owned business that has specialized in animal nutrition for four generations, Dynamite Specialty Products makes products for virtually every member of the animal kingdom. It has long developed all-natural dog food and nutritional supplements for show dogs across the country and prize-winning racehorses. Its specialists in dog nutrition and animal nutrition can recommend exactly what vitamins, minerals and other supplements best support dogs with allergies, horses with laminitis, cats whose owners make their own food, and cows with digestive issues.
Dynamite has worked with veterinarians and university researchers to produce specialty foods to correct nutritional deficiencies in animals ranging from Canadian muskoxen to peregrine falcons to zoo exotics.
Dynamite uses only natural ingredients, made in the United States for better quality control. Throughout its history of making natural dog food, it has always looked at alternatives to animal by-products, antibiotics, chemical preservatives, fumigants, artificial coloring and other additives that have later caused dog allergies and other health problems. Its manufacturing processes are so stringently controlled that Dynamite has a separate mill to produce feed for herbivores, such as horses and poultry that are especially sensitive to contamination from meat needed by other species such as dogs and cats.
Additional information on natural dog food and dog vitamin and mineral supplements is available at DynamiteSpecialty.com or by calling (800) 697-7434.
"dog treats," "dog treat," "healthy dog treats," "natural dog treats," "healthy dog biscuits," "all natural dog biscuits," "dog allergies," "organic dog biscuits," "all natural dog foods," "organic dog treats," "natural dog biscuit," "all natural dog biscuits," "dog allergies," "corn free dog food," "wheat free dog food," "gluten free dog food," 'hypoallergenic dog food," "best grain free dog food," 'gluten free dog foods," "dog food for allergies"
# # #