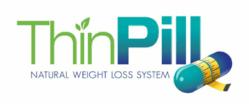 West Palm Beach, FL. (PRWEB) July 22, 2012
For a limited time only, ThinPill™ is announcing a new weight loss program: Burn Fat, Lose Weight for only $1/day! Weight loss involves commitment, commitment to exercise, eating healthy, and often a financial sacrifice. To help encourage and promote weight loss for everyone, ThinPill™ is now offering an inexpensive weight loss solution for only $1/day.
The ThinPill™ is a Natural Weight Loss System with proven results. Combining both nature and science, the ThinPill™ system was created for people who are looking for one product to serve as a fat burner, energy booster, appetite suppressant, and natural diuretic that also reduces bloating -- all with no jittery side effects!
This unique and natural pill was formulated out of a strong demand for a genuine, no-nonsense weight loss product. The all natural ThinPill™ isn't just another diet pill; this product is guaranteed to provide a better way of life!
ThinPill™ Main Benefits:

Inhibits fat production, while burning fat
Reduces body weight and Body Mass Index (BMI)
Promotes normal cholesterol levels
Promotes healthy serotonin levels
Provides a good source of calcium
ThinPill™ can be purchased at the official website and Lemus Natural Medicine.