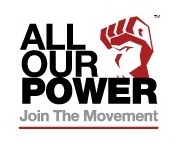 We are offering a solution to bridge the gap between the 99 and the 1-percenters. -Joe Kalfa
New York, NY (PRWEB) May 08, 2012
AllOurPower, a new movement aimed at rectifying the imbalance of power amongst the top 1% of income earners and the rest of the population, is launching their new website on May 9th. To celebrate the launch and gain new membership and awareness, AllOurPower is also hosting a large rally at Zuccotti Park, New York, NY. The rally will take place on May 9th and 10th from 8 a.m. to 1 p.m. Zuccotti Park is located on the Liberty and Broadway cross streets in Lower Manhattan, and AllOurPower will be next to the Occupy Wall Street protest.
AllOurPower was founded by Joe Kalfa. It was built on the belief that there is an unevenness of power amongst corporate America in favor of large companies. The organization aims to change the way retail works to benefit the majority of the population. Kalfa states, "We are offering a solution to bridge the gap between the 99 and the 1 percenters." AllOurPower intends to build off the momentum of the Occupy Wall Street movement, but provide a proactive solution where people can actively work towards uniting this gap.
AllOurPower aspires to resolve this imbalance by uniting consumers all over the world under a single banner. This will enable them to demand better pricing in every area, such as gas, groceries, insurance, electronics, cellular providers, Internet services, hotels, car rentals, and so on. AllOurPower aims to reach 10 million users. As they hit significant user milestones towards reaching that goal, they intend to negotiate deals with corporations that will provide AllOurPower's members discounts. Therefore, members will benefit from the discounted costs and the corporations will profit by having a devoted customer base.
AllOurPower is a for profit business with a core value in creating a movement of the people. The company differs from sites like Groupon because they are not selling a specific product or any product at all; all of the discounting is done through the merchant and AllOurPower does not take part in the actual transactions. Discounts obtained will also be for a minimum of a year and will be on everything the merchant sells, not just specific items.
It is completely free to join and members will use a discount card, a bar code on their smart phone, or a unique identifier number to present to businesses to obtain their discounts. The movement is also international, so people can join from anywhere in the world to get discounts wherever they travel.
Any person that wants to move the cost of living to a better, lower place can help advance towards this movement by participating. One voice will not sway large corporations to offer better costs, but 10 million voices will have the power to make this vision a reality. Check out the new site on May 9th at http://www.allourpower.com and come down to Zuccotti Park on May 9th and 10th to join AllOurPower in the movement towards economic unification.