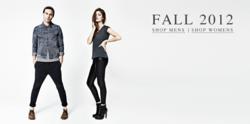 Delivers an attitude driven uniform built from diverse and disparate elements.
(PRWEB) July 26, 2012
AllSaints, the acclaimed British fashion brand known for its unique offering of sharp edge, directional clothing announce new products and styles for Fall 2012. For Fall 2012, AllSaints presents Nouvelle Vague - a new wave of cohesive, confident, committed Menswear and Womenswear that delivers an attitude driven uniform built from diverse and disparate elements. The collection displays a clear evolution and a deliberate contrast between precise simplicity and conscious provocation. It is a collection that is both un-apologetic and un-affected.
This fresh new attitude draws inspiration from clearly diverse elements whose collective impact, once creatively curated, is greater than the sum of its parts.
This July, AllSaints Womenswear presents iconic style, evolved. Cropped, high-waist miniskirts, oversized and form fitting clean black leather jackets and skirts. Footwear honors the past and is updated for the modern woman with the new icon boot 'Jules.' AllSaints Womenswear portrays gentle fluidity in fabrics, and is complimented by a blushed color palette of dusk pink, plum and amber, framed in jet black. Muted coquettish textiles team with strong bold lines, strict wools and bridle leathers to carve the sharp line of modernity.
For AllSaints Menswear, color remains a key driver for the collection. Jersey is backed with color and stripe, and chino continues in seasonally relevant shades. New wovens are introduced complementing the standard slim fit styles. Footwear takes an AllSaints approach to heritage silhouettes like the 'Desert' boot.
Fundamentally, this collection presents an effortless versatility and an evolved confidence in silhouette, fabrication and impact. It displays a committed intent to well constructed quality materials and craftsmanship - embracing both simplicity and sexuality, often in the same outfit.
Womenswear Highlights Include:
DIAGHILEVI DRESS
The Diaghilevi Dress was developed on the stand to create an effortless draped design. Gathering panels are used to create texture, and a fitted bodice with angled seaming works to form fit around the body. The Diaghilevi Dress has a signature AllSaints draped skirt.
JULES BIKER BOOT
The Jules Biker is a classic ankle boot made using Italian leather. Fully lined and featuring a removable AllSaints harness strap and an inside zip; this style is fully washed and hand finished. The Jules Biker has a specially designed AllSaints heel. The real leather sole has an injected rubber forepart providing additional grip and extended wear.
HIGH HESSIAN BOOT
Classic ankle boot with soft almond shaped toe profile. The High Hessian Boot has a sturdy medium height heel, is made from soft Italian leather and features a signature zip closure down the center back. The boot is fully leather lined, hand finished and includes a leather outsole with injected rubber detailing to provide additional grip and extended wear.
LOW HAIR DAMISI
The Low Hair Damisi is a rework of our classic range for Autumn/Winter. Fully lined and featuring a refined toe shape and lower leg, this style uses Italian leather and hair on hide for a unique finish. The real leather sole has a rubber forepart and is heavy to provide additional grip and extended wear.
STAM VEST
The Stam Vest in washed black is a classic AllSaints vest made from superfine stretch cotton. This style features flatlock stitching on the neckline and has been developed in neutral colors for layering.
DITA TOP
The Dita Top in grey marl is a loose fit tee. Featuring a unique woven trim detailing on the neckline and armholes, this style has been developed in neutral colors for layering.
GLOSS TAILCOAT
The Gloss Tailcoat Jumper is a metallic open knit jumper. Featuring a dropped armhole and scoop hem detail, this style is also available in a jet color way.
BIKER PENCIL SKIRT
The Leather Biker Pencil Skirt is a high-waisted pencil skirt made with garment washed lambskin. Fully lined, this style features biker seaming details and welt pockets at the back. The Leather Biker Pencil Skirt also uses zip pockets at the front, a zip at the center back with a self-leather puller and rib detail at the side panels.
ELISSA SHORTS
The Elissa Shorts are hand embellished in an irregular manner to create a textured finish. The impact of this style is achieved through a black base accentuated by a selection of bronze beads mixed with ice and pastel sequins. Resting perfectly with basic jersey, the Elissa Shorts are a stand out piece from our autumn/winter range.
Menswear Highlights Include:
GAUNTLET BOOT
The Gauntlet Boot is a short-waxed leather Chukka Boot with a heel strap and exclusive buckle. A fully lined classic design, this boot features a branded embossed sole and has been carefully hand burnished and finished for an authentic look.
COIMBRA BLAZER
Fully lined, single-breasted two-button jacket with narrow notch lapels and working cuffs with AllSaints branded genuine horn buttons. The Coimbra Jacket is constructed using traditional tailoring techniques. Layered canvas and horsehair internal components have been used to increase structure through the body, while a melton under collar has been applied to create a more structured collar shape. This style also features removable basting stitching on the shoulder, cuffs and vent to help maintain the form of the garment until it is ready to be worn.
COIMBRA TROUSER
Half lined, slim fit pants with traditional button fly, front ticket pocket detailing, AllSaints branded genuine horn buttons and vintage inspired internal construction
CARGO BIKER
Slim fitting leather jacket with classic biker details, asymmetric front fastening, exposed zip pockets and cuffs and quilted panels at the front and back shoulder areas. The Cargo Biker jacket is made from the finest lamb nappa and has been heavily hand burnished over the edges and seams to create a two-tone effect. It's then lightly enzyme stone washed to create its authentic vintage finish.
STAMP CIGARETTE
Our slimmest fit; a neat fitting square top block jean that sits low on the hips with a skinny leg. The Stamp Cigarette Jeans are constructed using washed indigo denim and contain elastane for a slight stretch. Featuring signature Ramskull stitched back pockets, which are half lined for extra re-enforcement, a coffin shaped coin pocket, gunmetal shanks and rivets and a hallmark AllSaints shank pin; the cigarette fit has been upgraded for Autumn/Winter.