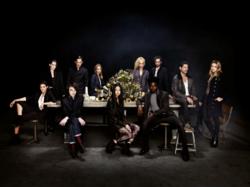 New York, NY (PRWEB) September 07, 2012
AllSaints to release debut global brand campaign celebrating its heritage as a true fashion original. Directed by AllSaints Chief Creative Officer Wil Beedle, photographed by Aitken Jolly and shot by Tom Beard - this dramatic film, stills and online experience introduces the next wave of up-and-coming creative talent combining actors, artisans, poets, writers and models alongside long time brand collaborators.
The 60-second brand film shows the assembled cast coming together to celebrate the creativity, innovation and beauty of the new Fall Winter 2012 collection. The experience continues online with an immersive digital experience that allows the viewer to move back and forth through the event and learn more about each character.
AllSaints has recruited the most exciting talent from all walks of creativity to front the new campaign which will be released in cinemas (UK specific), in-store, social and online media.
The cast includes:

Tomo Campbell – fine art painter
Marques Toliver – violinist
Alpines- musical duo
Phoebe Colling James- artist and photographer
Tony Ward- entertainer and model
Vita Kan- ballerina and model
Sophie Dickens- singer and model
Greta Bellamacina- poet
Stuart Hammond- writer and editor at Dazed and Confused Magazine
Laura Gosh-film maker
This is the first agency appointment by AllSaints with the acclaimed Beattie McGuinness Bungay and marks a desire to significantly ramp up the brand's marketing activity to coincide with the launch of the new Fall Winter collection. The new range marks a return to form with iconic silhouettes and innovative fabrics under the direction of the newly appointed Chief Creative Officer, Wil Beedle.
Press contact:
Jennifer Walker
VP Press & Marketing North America
Jenniferwalker(at)allsaints(dot)com
917.210.9401
Sarah Lawrence
PR & Marketing Manager
S.lawrence(at)allsaints(dot)com
917.210.9402
About AllSaints:
AllSaints was founded in 1994 and has enjoyed phenomenal success creating directional, functional and wearable clothes for both men and women. In 2011 AllSaints was acquired by Lion Capital and continues to expand its presence across Europe and the US.