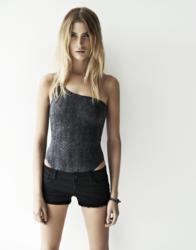 summer-focused merchandising mix of ready-to-wear and accessories for men and women
London, United Kingdom (PRWEB) May 20, 2013
Iconic British Fashion house AllSaints announces the opening of a year-long pop-up store in Malibu, opening this May 2013. The new store located at 3890 Cross Creek Road, measures approximately 1,745 square-feet and will offer customers a summer-focused merchandising mix of ready-to-wear and accessories for men and women.
The new pop-up store will showcase a minimalist AllSaints aesthetic, championing industrial design. Using iconic AllSaints materials and application, this brand extension will feature clean exposed brick with AllSaints designed acme. Store fixtures feature vintage sewing machines, hanging looms and single-rail carts on concrete floors. In addition, the store will showcase an open industrial ceiling design, with a single digital projector streaming branded content.
AllSaints currently has 15 stand-alone stores across the United States and an additional 15 concessions in Bloomingdale's. The Malibu pop-up shop will be the 16th store in the U.S. and the third-store under newly appointed CEO William Kim.