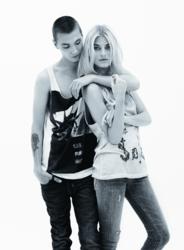 AllSaints and Not For Sale together, aim to model what it looks like for companies to care about the dignity of people
(PRWEB) December 01, 2011
AllSaints, the acclaimed British fashion brand known for its unique offering of vintage-inspired, directional clothing, recently launched their alliance to Not For Sale, the international non-profit anti-human trafficking group.
"In recent years, the fashion world has focused its attention primarily on environmental impact of manufacturing and product-sourcing," says David Batstone, President of Not for Sale. "This partnership with AllSaints and Not For Sale represents the unprecedented entrance of a global fashion retailer into a movement that aims to put an end to forced labor. AllSaints and Not For Sale together, aim to model what it looks like for companies to care about the dignity of people."
Lyndon Lea, Partner of Lion Capital, majority shareholder of AllSaints comments: "AllSaints is partnering with Not For Sale over the long term as we aim together to cause Positive Disruption. Not For Sale embodies the social conscience of our brand where we actively take a stand and help in ending slavery. In partnership with the NFS team we will use our creative talents to launch products and create events that aid the efforts of the NFS cause. As David Batstone has shown -- one man can make a difference, so harnessing the power of our brand and our 3,000 comrades around the globe we can and must do more to help NFS."
The partnership commenced with the launch of a capsule Not For Sale t-shirt collection, designed and produced exclusively by AllSaints. The line debuted with an exclusive U.S. unveiling event in Los Angeles at the historic Henry Fonda Theatre, now named The Music Box. The fundraiser featured a special live performance by indie rock band Black Rebel Motorcycle Club and DJ sets by supermodel Agyness Deyn with Chris Bletzer and The Strokes' Nick Valensi. Amongst the 1,000 guests in attendance celebrities such as President of Not For Sale David Batstone, Duchess Sarah Fergusson, professional boxer Manny Pacquiao, Taryn Manning (Hustle & Flow), Emmanuelle Chriqui (Entourage), stars of MTV's Teen Wolf Holland Roden, JR Bourne, and Crystal Reed, model and socialite Lady Victoria Hervy, Tiffany Hines (Bones), Caity Lotz (Death Valley), Josie Loren (Make It or Break It), Madeline Carroll (Mr. Popper's Penguins), Mei Melancon (Rush Hour 2), TV personalities Erinn Westbrook and Kristen Aldridge, musicians Grace Potter, James Valentine and Michael Madden (Maroon 5), model Sophie Dickens, Parker Young (Suburgatory), RJ Cantu (Death Valley), Cameron Richardson (Alvin and the Chipmunks), Charlene Amoia (How I Met Your Mother), Consuelo Costin (Something in Between), TV actress Crystal Allen, Grace Johnston (Beaches), and documentary director Oliver Cowley.
Proceeds from this capsule collection will benefit Not For Sale's work to combat human trafficking globally, and future products will promote the shared vision of Not For Sale and AllSaints to prevent forced labor and end the modern slave trade. Not For Sale and AllSaints are further collaborating on a strategic plan that will create employment opportunities for survivors and communities at high-risk to human trafficking. This second phase of the partnership is an unprecedented step in utilizing high-end fashion to prevent slavery directly on the ground, and aims to launch with an expanded line in 2012.
ABOUT ALLSAINTS
AllSaints was founded in 1994 as a menswear brand; AllSaints quickly gained a reputation as the destination for directional, vintage inspired design. Available in some of the world's most exclusive department stores including Harrods and Harvey Nichols, it wasn't long before they branched into the womenswear market in A/W 98. 2005 welcomed an expansion from the boutique chain of the 90's to a leading retailer globally. The brand has retained its original sensibility; focusing on fresh and innovative design, detail, graphics, technique and fabrication.
ABOUT NOT FOR SALE
Not For Sale equips and mobilizes Smart Activists to re-abolish slavery — in their own backyards and across the globe. Not For Sale believes every individual has a skill they can contribute to fight human trafficking, and together we can end slavery in our lifetime.
# # #