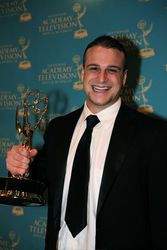 Outstanding Achievement in Sound Editing - Live Action and Animation
Winter Park, FL (PRWEB) September 11, 2009
Full Sail University (fullsail.edu), an award-winning entertainment media institution located near Orlando, FL, is proud to recognize Full Sail University graduate Jake Allston, on his nomination and win of a Daytime Entertainment Emmy® Creative Arts Award for his work as Supervising Sound Editor on the Nickelodeon series, Tak and the Power of Juju at the 36th Annual Daytime Entertainment Emmy® Creative Arts Awards held on August 29, 2009.
In addition to Allston's win for "Outstanding Achievement in Sound Editing - Live Action and Animation," Full Sail University graduate Chris Sassano was also nominated in the same category as Sound Effects Editor for the Nickelodeon series, The Wonder Pets! Both Allston and Sassano are graduates of Full Sail's Recording Arts Program.
One night later, the Daytime Entertainment Emmy® Awards were also held, and Full Sail Film graduate Troy DeVolld was nominated for a Daytime Entertainment Emmy® Award as one of the producers of the popular Style Network series, Split Ends in the category of "Outstanding Special Class Series."
"Full Sail University is proud to provide our students with the foundation that enables each of them to achieve their dreams by following their passion with tremendous dedication and commitment" said Jay Noble, Director of Alumni at Full Sail University. "Our faculty, students, and staff are honored to celebrate the accomplishments and talent of our graduates, and we look forward to their continued success in the future."
About Full Sail University:
Since 1979, Full Sail University, located outside of Orlando, FL, has been an innovative educational leader for those pursuing careers in the entertainment industry. With over 32,000 alumni, graduate credits include work on OSCAR®, Emmy® and GRAMMY®-winning projects, best-selling video games, and the #1 grossing U.S. concert tours. Full Sail's 190-acre campus and online education platform proudly welcomes over 7,000 students from 50 states and 65 countries.
Full Sail currently offers a total of 25 degree programs including: Associate of Science Degrees in Graphic Design; Bachelor of Science Degrees offered in Computer Animation, Digital Arts & Design, Entertainment Business, Film, Game Art, Game Design, Game Development, Graphic Design, Internet Marketing, Music Business, Recording Arts, Show Production, and Web Design & Development; and Master of Science Degrees in Education Media Design & Technology, Game Design, Entertainment Business, and Internet Marketing; and a Master of Fine Art in Media Design.
Full Sail was most recently named the 2008 "School/College of the Year" by the Florida Association of Postsecondary Schools and Colleges. The university has also been previously named: The Harvard of Game Schools by Tips & Tricks Magazine; one of the top three New Media Schools by Shift Magazine (alongside the Massachusetts Institute of Technology and New York University); one of the Top Five Game Degree Programs in the world by Electronic Gaming Monthly; one of the Best Music Programs in the country by Rolling Stone Magazine; one of the Best Music Business Departments in the Schools That Rock: The Rolling Stone College Guide; and one of the Best Film Programs in the country by UNleashed Magazine.
For more information about Full Sail, please visit http://www.fullsail.edu.
###