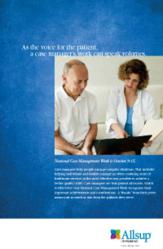 Belleville, Ill. (PRWEB) October 04, 2011
The changing landscape of today's healthcare presents opportunities and challenges for hospital case management, according to the American Case Management Association (ACMA), which will observe National Case Management Week on Oct. 9-15, 2011. Organizations, including Allsup, a nationwide provider of Social Security disability representation and Medicare plan selection services, recognize the contributions and value of case managers within hospital and health systems settings.
National Case Management Week is an opportunity to celebrate the dedicated, compassionate individuals who make a difference by helping patients and their caregivers discover the best healthcare options for their specific situation. The role of hospital and health systems-based case management professionals is complex. They help assess, plan, facilitate and advocate for quality, cost-effective healthcare options and services that meet individual patient needs, while aligning that task with the health facility business and marketing goals.
ACMA, a member-based association, supports hospital case management professionals by providing networking opportunities, educational forums, mentoring, resources and innovative professional development services that enhance patient care outcomes in hospitals across the country. One of the goals of ACMA is to influence policies, laws and other issues related to the practice of case management by keeping professionals abreast of changes on the healthcare policy horizon.
ACMA will continue to raise awareness of the important place case management holds in hospital and health systems settings at its 2011 Leadership Conference, Nov. 9-10, 2011, in Little Rock, Ark. The conference will address the topic of public policy. ACMA regularly monitors and posts summaries of current legislative activities on its website.
Allsup is observing National Case Management Week with free posters available to hospital-based case managers, clinics and other community groups by calling Karen Hercules-Doerr at (800) 854-1418, ext. 65770.
Media contact:
American Case Management Association
Tyler Neese
(501) 907-2262
tneese(at)acmaweb(dot)org
http://www.acmaweb.org
Free posters:
Allsup
Karen Hercules-Doerr
(800) 854-1418, ext. 65770
k.hercules-doerr(at)allsupinc(dot)com
http://www.allsupcares.com
# # #