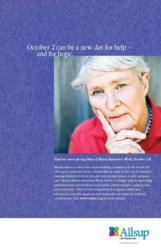 Allsup is pleased to sponsor NAMI's HelpLine and support the important work NAMI is doing to promote treatment, hope, understanding and an end to stigma.
Belleville, Ill. (PRWEB) September 28, 2011
United Spinal Association's membership services division, National Spinal Cord Injury Association (NSCIA), has launched its New Beginning initiative to provide tools and resources for individuals with new spinal cord injuries and disorders (SCI/D), as well as those who have lived with disabilities for many years, to improve their quality of life. Allsup, a nationwide Social Security disability representation company that helps thousands of people with SCI/D each year, is pleased to be a sponsor of the program launched during Spinal Cord Injury Awareness Month in September.
Approximately 700,000 Americans have disabilities of the spinal cord, which can include traumatic spinal cord injury, multiple sclerosis, polio and amyotrophic lateral sclerosis (Lou Gehrig's disease), among others.
New Beginning is a nationwide initiative that empowers individuals to overcome the wide-range of challenges that accompany life with SCI/D––from accessing quality healthcare and disability resources, pursuing employment and education, choosing the proper adaptive equipment and home modifications—to locating peer support groups and living an active lifestyle.
NSCIA is distributing backpacks to people newly injured or diagnosed with disorders such as multiple sclerosis that are leaving hospitals and rehabilitation facilities. The backpacks contain relevant information and consumer resources on mobility and medical equipment, disability benefits, accessible housing, leisure and travel, healthcare, and much more.
"Most people are universally unprepared at first to live with a life-changing injury or disorder," said K. Eric Larson, senior vice president for membership and chapter services at the United Spinal Association. "The quicker we can reach these individuals and their family members and caregivers, the better their outcomes will be."
For example, many people are unable to return to work while they concentrate on rehabilitation. For those unable to work for 12 months or more, applying for Social Security Disability Insurance (SSDI) benefits as soon as possible can help them secure a monthly income and qualify for Medicare coverage
Spinal Cord Injuries and Disability Benefits
SSDI is a mandatory, tax-funded, federal insurance program designed to provide individuals with income if they are unable to work because of a severe disability. It is overseen by the Social Security Administration (SSA). Individuals must have paid FICA taxes to be eligible.
Allsup senior claims consultant Edward Swierczek offers the following advice for people with spinal cord injuries when preparing to apply for Social Security disability benefits:
1. Inform your treating physicians that you are applying for Social Security Disability Insurance benefits and that you require their support.
2. Encourage your treating physicians to respond promptly to any requests for medical information.
3. Be prepared for a lengthy ordeal. Because the SSA denies two-thirds of initial applications, many applicants must progress to additional levels of review before receiving benefits.
4. Be prepared for the SSA to tell you that you can do "other" work if you have a significant impairment that prevents your past work, and you are under age 50.
5. Tell your treating physicians they may be asked to provide their medical opinion about your ability to function.
6. Inform your treating physicians they may be contacted more than once for additional medical information and to complete assessment forms. "It is not unusual for the hearing office to deny the first request to pay the case without the need for an oral hearing," said Swierczek. "It may take several written requests with supporting medical evidence and assessments before the case gets paid on the evidence of record."
7. Seek representation assistance from an advocate such as Allsup, who knows what information the SSA needs and can help you receive your benefits with less stress and more quickly.
Additional information on SSDI eligibility, the application process, benefits and representation options are included in the New Beginnings backpacks.
For more information on the SSA's five-step process to determine if a SCI/D patient qualifies for SSDI, visit Allsup.com.
About United Spinal Association
United Spinal is a national 501(c) (3) nonprofit membership organization formed in 1946 by paralyzed veterans and is dedicated to improving the quality of life for all Americans with spinal cord injuries and disorders (SCI/D), including multiple sclerosis, spina bifida, ALS and post-polio. Membership is free and is open to all individuals with SCI/D.
About Allsup
Allsup is a nationwide provider of Social Security disability, Medicare and Medicare Secondary Payer compliance services for individuals, employers and insurance carriers. Founded in 1984, Allsup employs nearly 800 professionals who deliver specialized services supporting people with disabilities and seniors so they may lead lives that are as financially secure and as healthy as possible. The company is based in Belleville, Ill., near St. Louis. Visit http://www.Allsup.com.
Contact:
Tai Venuti
Allsup
(800) 854-1418, ext 68573
t(dot)venuti(at)allsupinc(dot)com
Ahvi Spindell
United Spinal Association
(212) 580-4567
ahvi(at)spindellmediarelations(dot)com
###