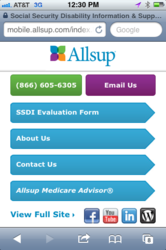 Allsup's new mobile site is designed for easy use on an iPhone, Android or other smartphone browser, plus there's no app to download or need to login to use the service.
Belleville, IL (PRWEB) January 19, 2012
People with disabilities now have a mobile friendly version of Allsup.com, where they and their caregivers can learn about the Social Security Disability Insurance (SSDI) program and request a free Social Security disability evaluation, according to Allsup, which has helped tens of thousands of people receive their SSDI benefits.
Using a mobile phone browser, consumers with disabilities can access Allsup services that include Social Security Disability Insurance representation and the Allsup Medicare Advisor®, a Medicare plan selection service.
"Allsup's new mobile site is designed for easy use on an iPhone, Android or other smartphone browser, plus there's no app to download or need to login to use the service," said Mary Dale Walters, senior vice president, Allsup Consumer Sales & Marketing.
The mobile Allsup.com can be found simply by typing "Allsup.com" in the phone's search browser.
Visitors can complete a free, no-obligation Social Security disability eligibility evaluation. The service takes users through a series of questions and they receive feedback based on their answers. Following confirmation of eligibility, consumers will receive a call from an Allsup representative to answer questions and begin the SSDI application or disability appeal process.
Allsup.com offers consumers information explaining the Social Security Disability Insurance program, the importance of applying for SSDI benefits and how to proceed with a claim or disability appeal.
In addition, Allsup.com provides links and access to:

Personal finance information tailored to those with a disability
Allsup Medicare Advisor
Allsup's Disability Life Planning Service®
Additional resources and services, such as the Allsup Place® online community
"The new mobile version of Allsup.com meets the changing needs of consumers with disabilities, many of whom may not have Internet access at home and instead use their smartphones to browse the Net," Walters said.
According to Pew Research Center's Internet & American Life Project, 83 percent of American adults own a cell phone. Thirty-five percent of them own a smartphone, and 25 percent of them say they mostly go online using their smartphones.
"Our mobile Allsup.com creates a better online experience for people using mobile devices," Walters said, explaining that the site automatically detects if someone is visiting Allsup.com using a computer or smartphone and displays in the appropriate format.
"We've developed Allsup.com using our extensive knowledge of the Social Security Disability Insurance program, with emphasis on providing the resources people need to determine if they are eligible for SSDI and to begin the applications process," Walters said. "The site also provides information to meet people's needs as they deal with a variety of disability-related issues."
Find more information about the SSDI program and access resources on Allsup.com by visiting http://www.allsup.com using a smartphone or computer.
For other questions about SSDI appeals or eligibility, contact Allsup's Disability Evaluation Center at (800) 678-3276 for a free disability evaluation.
ABOUT ALLSUP
Allsup is a nationwide provider of Social Security disability, Medicare and Medicare Secondary Payer compliance services for individuals, employers and insurance carriers. Founded in 1984, Allsup employs more than 800 professionals who deliver specialized services supporting people with disabilities and seniors so they may lead lives that are as financially secure and as healthy as possible. The company is based in Belleville, Ill., near St. Louis. For more information, go to Allsup.com.
# # #