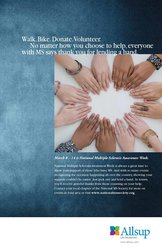 Belleville, IL (Vocus) March 1, 2010
Thousands of people will take to the Internet and their neighborhood streets to raise awareness of Multiple Sclerosis (MS) during MS Awareness Week -- March 8-14, 2010. Allsup, a nationwide Social Security Disability representation firm, works with hundreds of individuals with MS each year, and is pleased to offer free posters to support the observance.
The week's sponsor, the National Multiple Sclerosis Society, recently launched We Keep Moving—a new Web-based initiative that captures personal stories and perspectives through videos chronicling how people across the country keep moving forward while living with MS.
Individuals affected by MS submitted stories for consideration throughout February, and for 10 weeks, beginning March 9, selected stories will be shared at the We Keep Moving Web site. The public is encouraged to vote for the story they would like to see filmed and determine where the MS Road Crew should travel to next on their cross-country journey.
We Keep Moving complements Walk MS and Bike MS events coordinated by MS Society affiliates nationwide.
MS is a chronic, often disabling disease that attacks the central nervous system, which is made up of the brain, spinal cord and optic nerves. Symptoms may be mild, such as numbness in the limbs, or severe, such as paralysis or loss of vision.
According to the MS Society, in the United States, there are approximately 400,000 people with MS, and 200 new cases are diagnosed each week. Common symptoms include fatigue, motor weakness, poor balance, heat sensitivity, pain, cognitive impairments and mood disorders.
In the most severe cases, MS can render a person unable to write, speak or walk. In fact, MS is the third most common neurological diagnosis cited as the cause for disability. Estimates are that as many as 50 percent of individuals with MS report they cannot work due to their disabilities .
Allsup is offering free MS Week Awareness posters to healthcare providers, community groups and support groups nationwide. Please call Karen Hercules-Doerr at (800) 854-1418, ext. 5770 or order online.
Contact:
National MS Society
Arney Rosenblat
(212) 476-0436
Arney(dot)rosenblat(at)nmss(dot)org
Allsup
Karen Hercules-Doerr
(800) 854-1418, ext. 5770
k(dot)hercules-doerr(at)allsupinc(dot)com
ABOUT ALLSUP
Allsup is a nationwide provider of Social Security disability, Medicare and workers' compensation services for individuals, employers and insurance carriers. Founded in 1984, Allsup employs more than 600 professionals who deliver specialized services supporting people with disabilities and seniors so they may lead lives that are as financially secure and as healthy as possible. The company is based in Belleville, Ill., near St. Louis.
For more information, visit http://www.Allsup.com.
###