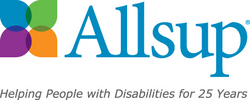 We know these are challenging times for people seeking their SSDI benefits
Belleville, Ill. (Vocus) March 30, 2009
Some people with disabilities still are experiencing waits as long as two to four years for decisions on their Social Security disability benefits, according to Allsup , which represents tens of thousands of people in the Social Security Disability Insurance (SSDI) process each year.
The backlog in the SSDI program continues to face challenges with rising applications and a strained work force at the Social Security Administration. The SSA Office of Inspector General issued a report stating that some individuals may wait as long as one year for a review of their case at the initial level, as long as 16 months at the reconsideration level (level 2), and four years at the hearing level (level 3). The U.S. Committee on Ways and Means also held a hearing March 24 on the continuing Social Security disability backlog.
"We know these are challenging times for people seeking their SSDI benefits," said Jim Allsup, CEO of Allsup, which provides financial and healthcare-related services to people with disabilities that prevent them from working. "Our specialists continue to work hard to help claimants receive their benefits as quickly as possible. We know that those who get representation can see their awards come through faster because they have our professional assistance."
Additionally, the SSA has reported plans to continue addressing the backlog with initiatives such as the compassionate allowances program and hiring more staff. The backlog now numbers more than 765,000 people who are waiting at the hearing level of the process.
"It's discouraging to know that people continue to endure such long waits for their benefits," Mr. Allsup said. "Allsup will continue to do what we can to represent claimants effectively, getting them through the process quickly and support people during their period of waiting for a decision from government examiners and judges."
SSDI is a federally mandated insurance program overseen by the Social Security Administration (SSA) that operates separately from the retirement and SSI programs. SSDI provides monthly benefits to individuals who are under full retirement age (age 65 or older) and who can no longer work because of a disability (injury, illness or condition) that is expected to last for at least 12 months or is terminal. Individuals must have paid FICA taxes to be eligible. More details are provided in the SSDI Overview on Allsup.com.
How Allsup Can Help
Individuals planning to apply for SSDI, or who have been working through the process alone, can find assistance through Allsup in several ways, including:

These are just a few of the resources Allsup offers. "But most importantly, we offer our long history and expertise with the SSDI process," Mr. Allsup said. "We've helped thousands of people get their SSDI benefit, and we can help you."
ABOUT ALLSUP
Allsup, Belleville, Ill., is a leading nationwide provider of financial and healthcare related services to people with disabilities. Celebrating its 25th anniversary in 2009, Allsup has helped more than 110,000 people receive their entitled Social Security Disability Insurance and Medicare benefits. Allsup employs more than 550 professionals who deliver services directly to consumers and their families, or through their employers and long-term disability insurance carriers. For more information, visit http://www.Allsup.com.
Contacts:
Rebecca Ray
(800) 854-1418, ext. 5065
or
Dan Allsup, ext. 5760
# # #