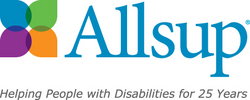 Money is tight for most people right now. For those relying on fixed Social Security disability income, it's even tighter
Belleville, IL (Vocus) July 10, 2009
Nearly one in eight Americans are entitled to unclaimed property, and the federal and state governments are estimated to have $400 billion in unclaimed assets in trust waiting for their rightful owners. Unfortunately, much of the property goes unclaimed because owners simply don't know about it, according to Allsup, a leading provider of Social Security disability, financial and Medicare-related services to people with disabilities.
"Money is tight for most people right now. For those relying on fixed Social Security disability income, it's even tighter," said Paul Gada, financial planning director for Allsup. "Finding that you have money or assets you were not aware of can be a welcome source of income."
However, you have to know what to look for and where to look for it.
Unclaimed property may include the contents of safe deposit boxes, uncashed dividends or payroll checks, and unredeemed money orders or gift certificates. It also includes inactive accounts at financial institutions and companies (such as utilities), as well as undeliverable tax refunds and matured bonds.
"Over time, people open various savings and retirement accounts, rent safe deposit boxes and acquire stocks and bonds," explained Gada. "Unfortunately, for one reason or another, people lose track of these assets. Places that have possession of the property, like banks, lose track of owners, especially if owners don't update their contact information. Also, if a property owner has passed away, family may be unaware of these assets."
Federal and state governments hold onto unclaimed property on behalf of the rightful owner. They make every attempt to notify people that they may have unclaimed property to recover, including offering searchable online unclaimed-property databases. To speed up the process of reuniting owners with their property, Allsup provides links to these resources from its Web site at http://www.allsup.com/personal-finance/unclaimed-property.aspx.
It's always good to have a general idea of what you are looking for before starting your investigation, according to Gada. For example, if it's an old checking account, you should try to determine approximately when the account was open. There is no time limit to collect unclaimed property; you are still entitled to it even if it's years later. However, if you're claiming property as an heir, you will need to provide proof that the property is now rightfully yours. This could include a will, power of attorney or other legal document that clearly assigns the property to you.
People also should be wary of companies offering to help them find unclaimed property for a fee. All information needed to locate property is readily available at no cost to individuals.
"It may take a little legwork and most people won't strike it rich by locating unclaimed property," said Gada. "However, it can be an effective and relatively easy way to generate added income to pay bills, shore up your rainy day funds or pad your retirement savings."
About Allsup
Allsup, Belleville, Ill., is a leading nationwide provider of financial and Medicare-related services to people with disabilities. Celebrating its 25th anniversary in 2009, Allsup has helped more than 120,000 people receive their entitled Social Security Disability Insurance and Medicare benefits. Allsup employs nearly 580 professionals who deliver services directly to consumers and their families, or through their employers and long-term disability insurance carriers. For more information, visit http://www.Allsup.com.
The information provided is not intended as a substitute for legal or other professional services. Legal or other expert assistance should be sought before making any decision that may affect your situation.
Contact:
Mary Jung, (773) 429-0940
Dan Allsup, (800) 854-1418 ext 5760
###