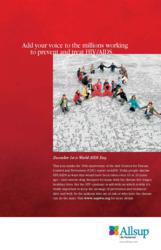 Regardless of how the listings may be updated, the critical information as it pertains to SSDI eligibility will still be the medical evidence and how HIV/AIDS affects your ability to work.
Belleville, Ill. (PRWEB) December 01, 2011
December 1 is recognized globally as World AIDS Day, and December is AIDS Awareness Month in the United States. Allsup, a nationwide provider of Social Security Disability Insurance (SSDI) representation and Medicare plan selection services, is distributing free posters to raise awareness of the importance of Human Immunodeficiency Virus (HIV) prevention and treatment.
According to the U.S. Centers for Disease Control and Prevention (CDC):

About 1.2 million persons in the United States are infected with HIV and 1 in five (about 240,000) don't know they are infected. Getting an HIV test can lead to getting the medical care needed to stay healthy longer.
Many people with HIV do not receive the medical care they need. Only 28 percent of all persons with HIV receive the care needed to manage the disease and keep the virus under control.
The number of people with HIV who acquire AIDS has decreased over time because of advances in medical care and antiretroviral therapy (ART). Still, more than 16,000 people with AIDS die each year.
HIV/AIDS and Social Security Disability Insurance (SSDI)
SSDI is a payroll tax-funded, federal insurance program. A portion of the FICA taxes workers pay is set aside for SSDI, as well as for Social Security retirement and Medicare. The Social Security Administration (SSA) uses a Listing of Impairments to help determine if someone is unable to work due to a mental or physical condition and qualifies for SSDI benefits. The listings describe impairments for each major body system that are considered severe enough to prevent an individual from doing any gainful activity.
The SSA first started providing disability benefits to people diagnosed with AIDS in 1983, after it adopted its HIV infection listing. In 2009, SSA asked the Institute of Medicine (IOM) to recommend improvements to the medical listings that reflected the advances in medicine and HIV/AIDS management. The IOM submitted their recommendations in a 2010 report, but the HIV listings have not yet been changed. SSA plans to request public comment on immune systems in 2012 as part of its initiative to update the listings.
HIV infection is currently evaluated under medical listing 14.08 that has 14 subcategories. They include bacterial infections, fungal infections, protozoan or helminthic infections, viral infections and malignant neoplasms.
"If one meets the criteria established by this listing, one is found disabled," said Ed Swierczek, an Allsup senior claims consultant
"Regardless of how the listings may be updated, the critical information as it pertains to SSDI eligibility will still be the medical evidence and how HIV/AIDS affects your ability to work. A complete medical record, including medical history, clinical and laboratory findings, diagnosis and prognosis is key.
"Accurately describing symptoms and their effect on your daily life to your physician is also important. This documents the severity of your condition relative to functioning. If your symptoms are so severe that they prevent you from being gainfully employed for at least 12 months or more, then you meet the SSA's definition of disabled," said Swierczek.
Although AIDS is primarily an immune system disorder, it also affects the nervous system and can lead to a wide range of severe neurological disorders, according to the National Institutes of Health. In the United States, neurological complications are seen in more than half of adults with AIDS. Common symptoms associated with HIV/AIDS include:
Low energy, fatigue, weakness
Shortness of breath
Depression, anxiety
Forgetfulness, loss of concentration, slowness of thought
Confusion and forgetfulness
Behavioral changes
Progressive weakness, and loss of sensation in the arms and legs.
For more information on HIV/AIDS and SSDI visit Allsup.com. To order AIDS Awareness posters visit AllsupCares.com.
ABOUT ALLSUP
Allsup is a nationwide provider of Social Security disability, Medicare and Medicare Secondary Payer compliance services for individuals, employers and insurance carriers. Founded in 1984, Allsup employs nearly 800 professionals who deliver specialized services supporting people with disabilities and seniors so they may lead lives that are as financially secure and as healthy as possible. The company is based in Belleville, Ill., near St. Louis.
Contact:
Tai Venuti
Allsup
(800) 854-1418, ext 68573
t(dot)venuti(at)allsupinc(dot)com
or
Dan Allsup, ext 65760
djallsup(at)allsupinc(dot)com
# # #