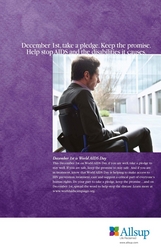 Belleville, Ill. (Vocus) November 29, 2010
December 1 is World AIDS Day and an opportunity to recognize the many faces of AIDS, according to Allsup, a nationwide provider of Social Security Disability Insurance (SSDI) representation and Medicare plan selection services. Allsup is offering free World AIDS Day posters to promote prevention and treatment of HIV/AIDS and related disabilities.
The Centers for Disease Control and Prevention (CDC) estimates that more than one million people are living with HIV in the United States. One in five of those people is unaware of their infection. An estimated 56,300 people become infected with HIV and more than 18,000 people with AIDS die each year in the U.S.
These statistics illustrate the scope of the epidemic. However, numbers often mask the faces of the mothers, fathers, sisters, brothers, sons and daughters living with AIDS and the loved ones that are lost to the disease.
The physical toll of HIV/AIDS often makes it impossible for individuals to work. At the same time, they incur healthcare expenses that leave them with few resources. The National AIDS Housing Coalition estimates that 70 percent of those living with HIV/AIDS are at risk for homelessness. Obtaining SSDI benefits has been shown to help stabilize their housing situations so they can better meet their needs and focus on wellness.
Accessing benefits and available resources is a major step toward wellness and stability for people living with HIV/AIDS (PLWHA). Currently, fewer than one in five people living with HIV has private insurance and nearly a third do not have any coverage, according to the U.S. Department of Health and Human Services. It is important for people living with HIV/AIDS to determine if they qualify for disability benefits from the Social Security Administration because they are eligible for Medicare 24 months after they begin receiving SSDI cash benefits. In fact, the majority of Medicare beneficiaries with HIV/AIDS qualify for SSDI.(1)
People living with HIV/AIDS and their caregivers also should know they can get help with their SSDI application. According to the American Psychiatric Association, PLWHA are more likely to experience a range of mental health issues, including acute emotional distress, depression, and anxiety. HIV also can directly infect the brain, causing impairment to memory and thinking. In addition, some anti-HIV drugs can have mental health side effects.
Successfully navigating the complex and time-consuming SSDI process may seem almost impossible to an individual with these conditions. They may give up after an initial denial or avoid the process altogether if they do not have an advocate to manage and monitor their claim, and support and encourage them throughout the process.
This World AIDS day, remember the faces of AIDS. Investigate and request the resources available in your community. To request a free World AIDS Day poster, contact Karen Hercules-Doerr at (800) 854-1418, ext. 5770, or order online.
Contacts:
Tai Venuti
(800) 854-1418, ext. 8573
t(dot)venuti(at)allsupinc(dot)com
Rebecca Ray
(800) 854-1418, ext. 5065
r(dot)ray(at)allsupinc(dot)com
ABOUT ALLSUP
Allsup is a nationwide provider of Social Security disability, Medicare and Medicare Secondary Payer compliance services for individuals, employers and insurance carriers. Founded in 1984, Allsup employs more than 700 professionals who deliver specialized services supporting people with disabilities and seniors so they may lead lives that are as financially secure and as healthy as possible. The company is based in Belleville, Ill., near St. Louis. For more information, visit http://www.Allsup.com.
(1)HIV and Health Care Reform, Presidential Advisory Council on HIV/AIDS (PACHA), March 24, 2009.
# # #