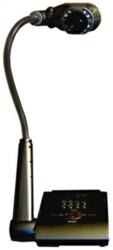 South Hackensack, NJ (PRWEB) October 07, 2011
RecordexUSA has broken both price and technology barriers with the release of the AFX-95. This revolutionary HDMI/DVI document camera featuring 12X Optics retails for an unheard of sub $300 retail price. The AFX-95 sets an entirely new standard of possibilities for educators integrating multimedia in a 21st Century Classroom.
The release of the AFX-95 is the result of rethinking presentation conventions to assist educators in having the greatest impact in a learning environment. In past days, document camera manufacturers cut costs and would only provide a 4X or 6X Optical zoom and expect the teacher to manually push the document camera head up and down to magnify and zoom.
With 12X optical and 8X digital zoom, the AFX-95 offers the ability to get up close to all the details of your documents, photos, maps, and 3D objects that lesser cameras simply miss. The advantage of this for the educator is "set it and forget it" functionality. The teacher can control zoom and other functionality from the provided remote from anywhere in the classroom without ever having to touch the document camera.
The AFX-95 auto-focus lens makes it a breeze to zoom in and out while making a presentation. Adjust optical and digital zoom from the remote and watch while the camera automatically refocuses the lens for a crisp clear image every time. The AFX-95 includes cables for HDMI, DVI, VGA and USB connectivity. This affords the ability to effortlessly integrate video, online resources, audio and documents into curriculum easier than ever before.
Every Recordex document camera comes loaded with the X-sight HD Viewer educational software suite. This intuitive software suite can be used by a teacher within minutes of loading. It affords the ability to take snapshots of documents, rotate, zoom and even annotate with ease.
Image thumbnails now have instant "drag and drop" functionality so an educator can drag a document image to their desktop, into a word document or interactive whiteboard software with the simple click of a mouse.
This sleek unit operates with or without a computer and is backed by the RecordexUSA Five Year "hot swap" warranty.
For a convenient, 10 minute live webinar demonstration with you or your staff, please contact Recordex.
The AFX-95 can be purchased through trusted resellers Audio Visual resellers such as Projector Screen Store.com and AlltecStores.com.
AlltecStores.com is main website of the AlltecStores network. The AlltecStores network consists of several specialty, e-tail websites focusing on audio-visual and technology products. The networks consists of several others e-commerce sites, including Headphones.com, ProjectorScreenStore.com, AllCartStore.com, PodiumAndLecternStore.com, AllWhiteboards.com, ProjectorBulbsandLamps.com, NationalAVSupply.com and more. Manufacturers interested in having their products on Headphones.com should contact pr(at)alltecstores(dot)com. For more information visit http://www.alltecstores.com.
###