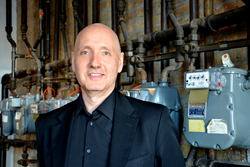 "As we continue to grow our capabilities and offerings we believe it is critical to have a true industry expert like Mark leading the agency as we make sure all of our creative executions are strategically driven." Sarah Eck, Co-Founder All Terrain
(PRWEB) October 27, 2014
All Terrain, a 16-year experiential marketing agency specializing in Strategic Experience Design, delivering innovative and authentic consumer engagements, announced today the hiring of Mark Solotroff as Director, Strategy & Insights.
"We realize that we may be one of few experiential marketing agencies that puts so much emphasis on the importance of having our designed experiences grounded in insights," said Sarah Eck, Co-Founder & COO of All Terrain. "As we continue to grow our capabilities and offerings we believe it is critical to have a true industry expert like Mark leading the agency as we make sure all of our creative executions are strategically driven."
Mark joins All Terrain with over 15 years in the industry, including a heavy emphasis on experiential marketing. Mark has worked with a wide range of clients, covering consumer packaged goods, financial services, telecommunications, technology, apparel, automotive and retail. More recently, Mark has divided his time between four diverse key target segments: Millennials, Mom Shoppers, Gen We and Hispanics. Prior to joining the agency, Mark worked at Aspen Marketing as Senior Director of Strategy.
"I am very happy to be returning to my first true love, which is centered on one-to-one engagements with consumers, and connecting with people around their passion points," said Solotroff. "I could not be more excited about joining All Terrain and adding greater strategic integrity to what is already an experiential marketing powerhouse."
Solotroff has developed strategies for marketing and advertising campaigns on behalf of many top brands including Pernod Ricard, Crown Imports, Diageo, Heineken USA, Procter & Gamble, Coca-Cola, Mars, Inc., Burger King, ConAgra Foods and Kellogg's.
Mark received a fine arts degree from The School of the Art Institute of Chicago, and got his start in research working as a curatorial assistant in the Department of Prints and Drawings at The Art Institute.
# # #
About All Terrain
All Terrain is a strategic marketing agency that has pioneered a new experience design model for a constantly evolving consumer and marketplace. 16 years of expertise in experience design enables All Terrain to deliver programs that create meaningful connections between brands and consumers in both real world and digital environments.
.