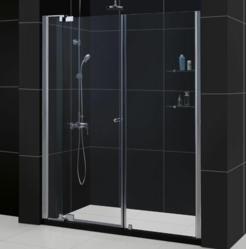 All Allure doors are 72" high and are made out of 3/8" thick, tempered, clear glass
Aiken, SC (PRWEB) November 30, 2012
The uniqueness of Allure shower doors is in their installation flexibility. This line of doors offers up to 7" of width adjustment; no other Dreamline door offers such a large margin of alteration. This unique feature is achieved not by heavy, bulky frames, but through the use of a small glass panel and a cleaver pivot location that allows the swinging panel to be moved as much as 6" from the smallest to the largest door setting. While the door is in the closed position, the 6" glass panel covers the gap between the end of the door and the wall. The wall profile on the opposite side of the pivot has a 1" adjustment either for out-of-plumb wall or for width alteration.
All Allure doors are 72" high and are made out of 3/8" thick, tempered, clear glass. They are reversible for left or right installation. Although Allure doors use anodized aluminum wall profiles, the swinging door itself is a clean sheet of glass pivoting on two small not-well-visible brackets. The profiles and mounting hardware come only in a polish chrome finish; this line doesn't offer a brushed nickel finish as is the case with other Dreamline shower doors. The glass has been factory treated with DreamLine's exclusive ClearGlass™ for superior protection and easy maintenance.
Allure doors range from 30" to 67" of width.
The smallest SHDR-4230728-01 model fits openings from 30" to 37" of width, when fully opened the width of the entrance ranges between 18 ¾" and 24 ¾". The next model in line SHDR-4236728-01 fits openings from 36" to 43" of width, when fully opened the width of the entrance ranges between 24 ¾" and 30 ¾".
The largest Allure model SHDR-4260728-01 fits openings from 60" to 67" of width, however when fully opened the width of the entrance ranges the same as in the previous model between 24 ¾" and 30 ¾", because starting with the model SHDR-4242728-01 there is a stationary glass panel used on the striking side of the door. This way the swinging panel doesn't exceed 31" thus it is easier and safer to operate.
Dreamline recommends, in order to insure long lasting life of the glass shower doors, to wipe them off after each use with a soft cloth. Rinse and wipe of the glass using either soft cloth or squeegee to prevent soap buildup. Never use abrasive cleaners and cleaning products that contain scoring agent because this may scratch the surface. Never use bristle brushes or abrasive sponges.
All Dreamline Allure shower doors are now available at Warehouse USA – http://warehouse-usa.com; they are on sale with free shipping throughout 48 contiguous states. For more technical information or if in doubt please don't hesitate to call 888-693-8066.