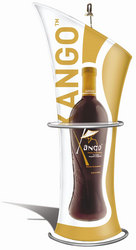 Denver, Colorado (PRWEB) March 2, 2009
The Allure banner stand display is the newest hybrid trade show display from Trade Show Emporium, a premier source for portable trade show display and consultation. The Allure is combination of style and substance and is a perfect addition to your marketing, advertising and trade show strategies.
Allure banner stands offer a blend of traditional and modern design, as well as functionality to create a unique hybrid trade show display. Its distinctive design and selection of accessories make it ideal for trade shows, retail settings, special events or showrooms.
The hybrid banner stand comes in Slope left and right, Bow and Fountain models. The Slope style stands seven feet tall at its highest point, with either a decline to the right or left side that is approximately a foot shorter. The Banner design is just shy of seven feet and widens towards the top section. The Bow is a symmetrical shaped display that incorporates a narrowed mid-section.
What sets the Allure apart from traditional trade show banner stands is the ability to incorporate accessories that enhances the Allure's functional frame, design and style. The additions of shelves turn the Allure into a hybrid merchandise display. Take advantage of the display's resourcefulness, by adding a stability bar for standoff graphics. Emphasize the display and additional accessories with the inclusion of a light.
Allure's graphic are printed on distinctive wrinkle resistant and flame retardant fabric. Trade Show Emporium uses a Photo Fabric® sublimation process that ensures high quality graphics. All graphics come pre-installed and can be easily replaced.
The Allure's exclusive Quick Lock Connector and expansion cords make assembling straightforward and quick. Assembly of the frame and graphics is achieved in less than two minutes without any tools.
To inquire about placing an order for an Allure banner stand display or any other trade show displays and products contact Trade Show Emporium at 1-866-764-2968 or visit its Web site at http://www.tradeshowemporium.com.
# # #