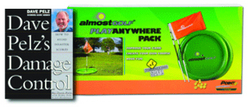 We are dedicated to helping our customers improve their golf game
Culver City, CA (PRWEB) August 12, 2009
almostGOLF today announced the launch of a series of free training videos featuring legendary golf instructor Dave Pelz on its website almostgolf.com. Dave Pelz, the world's foremost authority on the short game and putting, has been relied upon by top playing professionals including Phil Mickelson, Vijay Singh and Mike Weir. Dave Pelz has been endorsing the almostGOLF ball since 2006 and the almostGOLF ball is used in Dave Pelz Scoring Game School locations worldwide.
"We are dedicated to helping our customers improve their golf game" said Teddy Durkin, COO of almostGOLF. "By following Dave's easy-to-use techniques featured in the videos with the almostGOLF ball, golfers are able to practice in their backyard and will be amazed at the improvement in their scores."
"I love almostGOLF balls. I recommend their use in my Damage Control book and in my schools" said Dave Pelz. " AlmostGOLF balls help golfers learn better motions, better swings, and better habits. They are the best practice ball on the planet and I think every golfer can benefit from practicing with them in their own backyard. I love what almostGOLF balls can do for golfers."
ABOUT ALMOST GOLF
almostGOLF is the maker of the #1 off-course golf ball which combines tour quality flight characteristics with safety unmatched by any other golf ball. almostGOLF products, including the newly introduced almostGOLF Play Anywhere Pack, allow golfers of all skill levels to improve their golf game. almostGOLF is committed to growing the game of golf through its programs with PGA Sections, camps and recreational parks, middle schools, high schools and colleges across the United States and Canada. almostGOLF products are available in major retailers including Dick's Sporting Goods, Golf Galaxy, Fred Meyers, Academy Sports + Outdoors, Edwin Watts Golf Shops, Olympia Sports, Scheels Sports, Roger Dunn Golf Shop, Sport Chalet and PGA Tour Superstore as well as in leading sporting goods retailers, local golf pro shops and online at http://www.almostgolf.com.
###