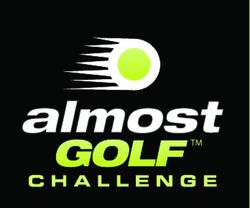 almostGOLF Challenge: Play It Anywhere
Culver City, CA (PRWEB) September 21, 2009
almostGOLF, maker of the #1 off-course golf ball, today announced the launch of the "almostGOLF Challenge: Play It Anywhere" YouTube video contest. All entries will be judged on creativity and originality and must demonstrate the use of the almostGOLF ball or the almostGOLF Play Anywhere Pack. Submit videos at YouTube using your YouTube member account. The contest begins September 15, 2009 and ends November 1, 2009. The Grand Prize winner will receive a Flip MinoHD camera. Second and third prize winners will receive an iPod nano. The contest is open to all U.S. residents 14 years of age and older.
"The YouTube contest was designed to promote the game of golf in a fun and unique way" said Teddy Durkin, COO of almostGOLF. "The safety of the almostGOLF ball allows golfers of all skills levels to play where, how and when they want. We regularly receive videos and photos from customers and thought that a YouTube contest would be a fun way to share these videos with our almostGOLF community."
For more information on the almostGOLF Challenge: Play It Anywhere YouTube video contest, visit almostGOLF or call 310-641-3310.
ABOUT ALMOST GOLF
almostGOLF is the maker of the #1 off-course golf ball which combines tour quality flight characteristics with safety unmatched by any other golf ball. almostGOLF products, including the newly introduced almostGOLF Play Anywhere Pack, allow golfers of all skill levels to improve their golf game. almostGOLF is committed to growing the game of golf through its programs with PGA Sections, camps and recreational parks, middle schools, high schools and colleges across the United States and Canada. almostGOLF products are available in major retailers including Dick's Sporting Goods, Golf Galaxy, Fred Meyers, Academy Sports + Outdoors, Edwin Watts Golf Shops, Olympia Sports, Scheels Sports, Roger Dunn Golf Shop, Sport Chalet and PGA Tour Superstore as well as in leading sporting goods retailers, local golf pro shops and online at almostGOLF.com.
###