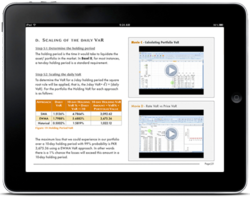 "If I can't download it, I am not going to read it."
Karachi, Pakistan (PRWEB) July 24, 2012
Fourquants.com today announced the release of two new interactive iBooks for the iPad. Aimed at risk, investment and treasury management professionals the titles integrate lessons, video lectures and self assessment in an easy to use, take it home with you, affordable package.
The team behind FourQuants.com manages the popular FinanceTrainingCourse.com reference site for computational finance users, designs risk and treasury apps for the enterprise, Android and iOS users. It also delivers risk and treasury training workshops for banking customers in the Middle East and Far East under the Alchemy brand.
The sprint from live training to books on iPad.
"Ten years of delivering live instructor led training to banking customers taught us one thing; readers prefer simple bite sized pieces, with easy to understand examples. And everyone wants self assessment.", says Jawwad Farid, a Columbia Business School alumni, an Actuary, and the subject matter expert behind the iPad books. "This is the primary design principle we follow in our live training workshops and what we have also used for our Risk series on the iPad."
The problem is that like all other fields of professional practice finance operates in layers of specialization. Each level of expertise lays the foundation for the next level of practice. Without deciphering the code that opens the door on the ground level you can't progress to a higher level of awareness.
Hence, the need to create a series for risk and treasury professionals on the iPad covering the very basics to the exotic in the field of Computational Finance.
"We are in the model building business, that is what we do best. We had a need for training new team members and clients right from the start" says Agnes Paul, the other Actuary in the team of domain experts that wrote the books. "It took us so long to get that training right because teaching this subject is awkward."
How do you teach computational finance on the internet or on the iPad? Do you still use text and html? What do you do with differential equations? Where do senior managers and board members start?
Ultimately the best books focus on helping readers build models themselves. They cover theoretical foundations but spend more time on hands on model building.
"We achieved this goal by emphasizing practitioner orientation, videos that help readers build simple models, and interactive self assessment", Uzma Salahuddin, the product architect, believes "The iPad experience and the iBook Author design takes learning to a different level; beyond a simple quantitative text book."
The team's first shot in teaching computational finance was an in-house resource. A free training site for Quants launched in 2010, today receives traffic from over 7,000 cities and 190 territories. The second effort led to the FourQuant iPad application allowing customers to directly purchase and view more than 40 Quant training videos.
The third product, like the first two, grew out of customer feedback.
It was all about context and relevance. "Give us relevant video with relevant text lessons, side by side".
About access and simplicity. "I need something simple and high level for my Board members".
And downloads. "I really want to take it home with me, read it on my next train ride or flight with or without the internet. If I can't download it, I am not going to read it", said one Wall Street customer familiar with earlier designs by the team.
It had to be more alive than a PDF file, more relevant than a standalone video.
The team worked for six months, running live experiments on instructional design using its e-learning sites and smart phone apps before finalizing the two ibooks. Case studies and videos came from customer workshops, the content from in-house consulting guides.
Starting off with Calculating Value at Risk and Understanding Asset Liability Management, FourQuants plans on releasing a new title every month in the risk, investment management and treasury space for the next 12 months. The books are supplemented by downloadable risk and treasury excel templates that can be purchased separately.
About FinanceTrainingCourse.com and FourQuants.com
FinanceTrainingCourse.com and FourQuants.com are risk and treasury e-learning sites created for financial institutions and retails customers by Alchemy Software (Pvt.) Ltd. The two sites attract very high quality traffic (US$ 150K+ income, graduate education, two income households) searching for risk and treasury domain training.
Alchemy Software (Pvt.) Ltd.is a digital publisher focused on risk consulting and training solutions that works closely with banks and financial institutions in the Middle East and Far East.