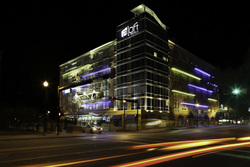 We are delighted to give Aloft Tallahassee the Starwood New Build of the Year Award in recognition of the efficient construction, timely opening and outstanding performance of this stylish, new property under the direction of McKibbon's skilled hotel opening team
Tallahassee, FL (PRWEB) February 16, 2010
Starwood Hotels & Resorts Worldwide, Inc. has selected Aloft Tallahassee Downtown as the 2009 New Build of the Year Award winner at the recent Starwood North America Owners Conference held in Fort Lauderdale, Florida. The 162-room property was developed by McKibbon Hotel Group, Inc., of Gainesville, Georgia, and is owned and managed by McKibbon Hotel Management, Inc. of Tampa, Florida.
Aloft Tallahassee Downtown opened in August 2009 at 200 N. Monroe Street, within walking distance of the Florida State Capitol, City Hall and the United States Courthouse. The hip, new hotel is convenient to Florida State University and Florida A&M University, and close to upscale shopping, nightlife and restaurants. Highlights include spacious, loft-like rooms, a lively social atmosphere and a full-service w yxzsm bar.
The New Build of the Year Award is presented annually to just one hotel in each Starwood Category: Full Service, Select Service, and Luxury and Design Brands. Aloft Downtown Tallahassee was chosen as the winner in the Select Service category, reflecting the successful collaboration between McKibbon's hotel opening team and Starwood representatives to bring the exciting new hotel brand to Tallahassee. McKibbon Vice President of Development Erik Rowen maintained a close partnership with architect Lindsay Pope Brayfield & Associates of Lawrenceville, Georgia and general contractor Kellogg & Kimsey, Inc. of Sarasota, Florida to keep the project on-budget and on-schedule. The McKibbon team, led by Director of Operations Support Karl Oates, was also actively engaged with the community to ensure a smooth introduction to the new hotel, which earned strong guest satisfaction scores following its debut.
"We are delighted to give Aloft Tallahassee the Starwood New Build of the Year Award in recognition of the efficient construction, timely opening and outstanding performance of this stylish, new property under the direction of McKibbon's skilled hotel opening team," said Denise Coll, President of the North America Division, Starwood Hotels & Resorts Worldwide, Inc. "The result is a hotel that is truly emblematic of the brand's jet-setting style, appealing to both savvy travelers and area professionals with its electric and eclectic experience and the lively w yxzsm bar."
McKibbon Hotel Management has appointed Marc Greenberg as general manager of Aloft Tallahassee Downtown. Marc rejoins the McKibbon team, relocating from Atlanta, Georgia, where he served as General Manager of a McKibbon-managed property from August 2004 to October 2009, winning a national General Manager of the Year award last year. Marc has enjoyed being active in his local community, serving on the Board of Directors for the Cobb County Convention and Visitors Bureau. He also participated with his former property in community service efforts for Children's Miracle Network and the National Multiple Sclerosis Society. He looks forward to becoming involved in the Tallahassee community.
For more information or reservations, visit Aloft Tallahassee, or call (850) 513-0313.
About Aloft Hotels
Created to shake up the staid, traditional select service segment of the hotel industry, Aloft delivers urban-influenced, open and vibrant design and a social guest experience at an affordable price point. In the same way that W Hotels broke through the clutter of conformity in the upscale hotel arena a decade ago, Aloft is shaking up the industry for the next generation of traveler. Aloft hotels are geared toward savvy, design-conscious consumers who grew up with the democratization of design. Aloft hotels are wired for the future and an aggressive growth plan is in place with properties set to open from Abu Dhabi and Baltimore to Dallas and Beijing and everywhere in between. For more information, please visit Aloft Hotels.
About McKibbon Hotel Group, Inc./McKibbon Hotel Management, Inc.
McKibbon Hotel Group, Inc., based in Gainesville, Georgia, is a privately owned enterprise that has grown into a premier real estate developer and owner of nationally franchised hotel brands for Marriott, Hilton and Starwood Hotels. McKibbon is proud to be a recognized leader for over 83 years in the hospitality industry, and McKibbon Hotel Management, Inc., based in Tampa, Florida, currently operates over 60 mid and upscale brands in 8 states throughout the Southeast. The company has a rich history and culture that promotes a family oriented environment, while holding true to its core values of honesty, integrity and loyalty. For more information, visit McKibbon Hotel Management.
###