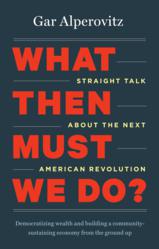 "This book...could be the most important movement-building book of the new century—and, thereby, one of the most important political books as well."
-Daniel Ellsberg
San Francisco, CA (PRWEB) May 09, 2013
Political economist Gar Alperovitz will speak about his new book, What Then Must We Do?: Straight Talk About the Next American Revolution, at the Commonwealth Club Friday, May 31 at 12pm.
"Gar Alperovitz...has produced the most compelling account yet of how we can move beyond the piecemeal, project–by–project transformation of our political economy to truly systemic change. A must-read for anyone who cares about the future of the United States and the world."
—Juliet Schor, author of True Wealth
"Alperovitz is showing us there is a better, equally American way to spread the wealth and put more people to work...This is not a utopian fantasy or a call for social engineering, this is a plain-spoken analysis by one of our leading economists of what's gone wrong and how to make it better."
—Seymour M. Hersh, The New Yorker
Never before have so many Americans been more frustrated with our economic system, more fearful that it is failing, or more open to fresh ideas about a new one. The seeds of a new economy—and, if we act upon it, a new system—are sprouting.
What is that next system? It's not corporate capitalism. It's not state socialism. It's something else—something entirely American.
In What Then Must We Do?, economist Gar Alperovitz speaks directly to the reader about why the time is right to democratize the ownership of wealth in order to strengthen our communities, and our nation. We can, and must, create an ecologically sustainable future through local cooperatives, worker-owned companies, neighborhood corporations, and small and medium-size independent businesses, as well as larger publicly owned enterprises and reinvigorated public institutions.
A message of hope in a time of economic malaise, What Then Must We Do? offers evolutionary, common-sense solutions for moving from despair and anger to strategy and action.
Endorsed by Ralph Nader and Van Jones, Alperovitz presents a compelling case for a cooperative and community-based economy. He argues that the coming painful decades may be the prehistory of the next American revolution – and an evolutionary process that transforms the American system, making it both morally meaningful and ecologically sustainable.