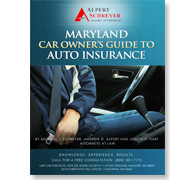 Waldorf, MD (PRWEB) June 22, 2011
The new auto insurance guide, which is available through either of their websites http://www.dcmdlaw.com and http://www.andrewalpert.com, provides Maryland car owners with the information necessary to understand the extent of their own auto insurance policy coverage and explains what "full coverage" actually includes. It also offers information on the various insurance terms used within car insurance policies, and details how an insurer writes a policy. The guide enumerates the various types of coverage typically provided under Maryland auto insurance policies, while providing details and information on the importance of each: liability, uninsured/underinsured motorist, property/physical damage, rental reimbursement, and mechanical breakdown. Furthermore, the guide outlines the Maryland state car insurance minimums and what those minimums actually mean in the event of a Maryland auto accident injury.
The guide is a valuable resource for Maryland car owners who wish to understand their own auto insurance policy better, as well as for those who want to ensure that they have enough coverage to protect themselves in the event of a serious injury auto accident in Maryland. The useful information in this guide will help car owners in Maryland make well informed decisions regarding the purchase, or change, of a car insurance policy, in addition to giving them options when insurance solutions are needed.
Alpert Schreyer Injury Attorneys, LLC, is a Maryland personal injury law firm with years of experience in insurance solutions and litigation in various injury accident cases, including auto accidents, train accidents, truck accidents, catastrophic injuries, motorcycle accidents, brain injury accidents, and others. The reputed Maryland personal injury attorneys with Alpert Schreyer protect the rights of those injured as the result of negligence and work diligently to ensure just compensation from insurers and at-fault parties.
###