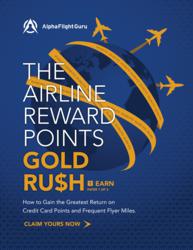 Travelers are finally figuring out that they have been spending four hours online to knock 25 bucks off an airfare.
San Bruno, Calif. (PRWEB) July 06, 2012
While travel websites have impacted traditional travel agency bookings and the way individuals plan travel today, many assume that travel agencies are on their way out. But new research by PhoCusWright, a travel research firm, suggests that travel agents are making a comeback. Alpha Flight Guru is one travel agency that is growing by offering personalized service and special rates that online travel sites cannot offer.
Visit http://alphaflightguru.com/cfo to download Alpha Flight Guru's latest white paper. The company specializes in helping customers redeem credit card points for cheap business class flights.
"Travelers are finally figuring out that they have been spending four hours online to knock 25 bucks off an airfare," said Ed Perkins, a contributing editor for SmarterTravel.com. "Businesses understand that when you're paying somebody to do a job and sending him on a trip, you don't want a guy to spend half a business day looking for a travel deal."
Research showed that travel agencies had $95 billion in travel bookings in the past year, accounting for one third of the $284 billion U.S. travel market. And hiring at travel agencies is on the rise.
"Travel agencies are able to offer a personal touch that you won't find on a travel booking website like Expedia or Travelocity. In many cases agents are able to beat or at least match Internet prices," said Tim Gibson, CEO of Alpha Flight Guru.
Poor customer service is among the biggest problems consumers run into when using a travel website, according to a recent study by eDigitalResearch. The study surveyed 47 online travel sites, with 43 of them ranked as having "satisfactory," "poor" or "very poor" customer service.
"Booking travel on your own can be both challenging and time consuming. Travel agents can be particularly helpful when you are not familiar with the destination, have several stops planned or need help taking care of special details or excursions," said Chad Gibbons, director of operations for Alpha Flight Guru.
Although travel agents charge fees for their services, they provide value for customers by helping them:
Save Time – Sifting through websites and doing comparisons for the best rate can be a time-consuming process. According to a survey of 2,000 travelers by the IBM Institute for Business Value, more than half said making online travel arrangements took them more than two hours, with 20 percent reporting that it took them more than five hours.
Expertise – Travel agents provide unique expertise that travel websites cannot offer. For example, Alpha Flight Guru specializes in helping clients redeem frequent flier miles and credit card reward points when the airlines are not offering reward travel as an option. Some agents specialize in a particular type of travel like family or business, while others specialize in a particular destination. Instead of trusting online reviews from strangers who might be paid promoters, agents are often able to offer authentic recommendations from their personal experiences.
Rates – The IBM study found that fewer than half of travelers feel they are receiving a fair value when they book online. The lowest rates are not always online. Travel agents often have lower rates than the most popular travel websites, said Chad Gibbons, director of operations for Alpha Flight Guru.
Special Relationships – Travel agencies build relationships with airlines, hotels, cruise lines, tour operators, car rental companies and more. These relationships are helpful for securing lower prices, getting upgrades or receiving other benefits a travel site cannot offer.
Problem Solving and Customer Service – Plans change and issues arise during a trip that travel agents are able to help with. They are available to answer client questions by cell phone, email, text and Twitter.
About AlphaFlightGuru.com
AlphaFlightGuru.com provides access to deeply discounted international luxury flights. Through a combination of contract and consolidator fares, and redeeming frequent flier miles for client companies, AlphaFlightGuru.com saves its clients millions of dollars each year on luxury flights. With more than 30 years of experience in the travel industry, and access to exclusive deals, AlphaFlightGuru.com saves its customers money and time, and helps them fly in luxury on the world's best airlines.