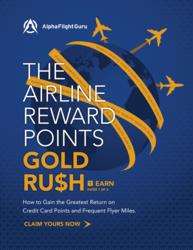 The ability to earn free or discounted travel by going on a business trip is definitely one of the biggest perks.
San Bruno, Calif. (PRWEB) September 13, 2012
Although the life of a road warrior comes with many challenges, a new survey of 1,001 business travelers indicated that most like being able to travel for their careers. Almost half of those surveyed said that the most enjoyable aspect of business travel is the ability to earn rewards miles or points through airline, hotel and car rental loyalty programs. The survey results did not surprise Tim Gibson, a spokesman for Alpha Flight Guru, a travel agency that specializes in helping travelers redeem points and miles for business and luxury travel.
Market research firm TNS conducted the survey on behalf of Marriott's Fairfield Inn & Suites. After the ability to earn loyalty rewards program points, 36 percent of respondents said not having to go into the office was the most enjoyable aspect of business travel. The survey found that 92 percent of business travelers are satisfied with how much they travel. And at 86 percent, most business travelers said they like preparing for trips, while 88 percent said they feel positive while traveling for business.
"The ability to earn free or discounted travel by going on a business trip is definitely one of the biggest perks," Gibson said. "Beyond signing up for loyalty programs with the airlines and hotel companies, one of the best ways to earn free travel is through credit card reward points. Selecting the best credit card reward program and using your points for international first or business class travel can help you save as much as 5 percent on your travel spending."
A white paper released by Alpha Flight Guru details the best ways to earn and redeem frequent flier miles and credit card rewards points. The free paper can be found at alphaflightguru.com/cfo and CFO.com. The paper has advice for companies trying to choose the best credit cards for their business based on where employees travel most and how the business spends its money.
"Research has shown that using credit cards has replaced flying as the top way to accrue frequent flier miles. The airlines and hotels are currently giving away more than $50 billion in reward points and miles each year," Gibson said. "Smart businesses should definitely be seizing this opportunity to save on travel instead of squandering credit card rewards points on merchandise and gift cards, which can have a return value of less than 1 percent."
Alpha Flight Guru's white paper outlines a four-step process for selecting the best credit cards to make the most of the rewards points being earned. The process includes selecting the best airline hubs, picking an international airline, taking advantage of promotions and picking the best credit cards.
About AlphaFlightGuru.com
AlphaFlightGuru.com provides access to deeply discounted international luxury flights. Through a combination of contract and consolidator fares, and redeeming frequent flier miles for client companies, AlphaFlightGuru.com saves its clients millions of dollars each year on luxury flights. With more than 30 years of experience in the travel industry, and access to exclusive deals, AlphaFlightGuru.com saves its customers money and time, and helps them fly in luxury on the world's best airlines.