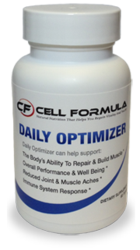 All natural health and wellness company, True Healthy Products has recently released a new supplement called Cell Formula Daily Optimizer with an all natural Alpha Lipoic Acid component that will help naturally restore vitamin levels.
(PRWEB) April 10, 2012
True Healthy Products has recently released a new supplement from their Cell Formula line called, the "Daily Optimizer" which contains the antioxidant, Alpha Lipoic Acid. The Cell Formula Daily Optimizer is an all natural supplement that contains several components to help enhance physical performance, recovery and increase blood supply.
A free report on Cell Formula and it's components is available for download on the company's website: http://www.cellformula.com
"I highly recommend it. I am very particular on what I put in my body, if it is not natural it is not for me. All of the Cell Formula products have helped me function better as an athlete and as a business women, I work for the Department of Finance here in Canada, and my job is tiring and taxing; the better I fuel my body the better I perform. The Daily Optimizer is a great compliment to any type of supplementation program. It helps me to balance my hormones, to rest and get through my days as well as really aids in recovery. After a workout, there's fewer aches and pains, less inflammation and I can get through my day a lot easier with it."

Natalie Waples, Fitness Model & Figure Champion
Alpha Lipoic Acid, otherwise known as ALA contains antioxidant regenerative properties that help protect cells from free radical damage. ALA increases the body's production of glutathione, a liver detoxifying antioxidant. The liver is responsible for detoxifying the blood, storing of glycogen, protein synthesis, and production of digestive aids, which are all crucial for a person's health. ALA has been shown to facilitate cellular uptake of glucose, which can enhance nutrient uptake. Enhanced nourishment aids muscle recovery and can encourage stronger muscles with minimal fat gain. Alpha Lipoic Acid supplements also help restore vitamin levels such as vitamin E and vitamin C.
In addition to Alpha Lipoic Acid, the Daily Optimizer contains components that aid in:
Supporting the body's ability to repair & build muscle mass
Relieved joint and muscle aches
Increased energy & overall performance
Increased testosterone in men & estrogen in women
Increased immune system response and general health
To learn more about the Cell Formula all natural supplement line and the natural Alpha Lipoic Acid supplements in the Daily Optimizer visit the company's website at http://www.cellformula.com
True Healthy Products
2460 N. Courtenay Pkwy, #210
Merritt Island, FL 32953
888-400-2920