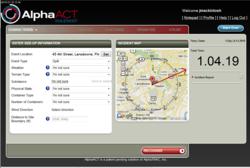 We are attempting to revolutionize crisis decision-making
Denver, CO (Vocus/PRWEB) March 03, 2011
DOE's Office of Emergency Management funded a complex-wide pilot program. Through sponsorship from this office, the use of AlphaACT HAZMAT Basic by DOE contractors, subcontractors and personnel is available free of charge, while two paid upgrade options (Pro and Pro Plus) are available to the DOE community.
AlphaACT HAZMAT is an emergency preparedness decision-making training system that emergency responders can use to train when they want, where they want, in as little as ten to fifteen minutes. The scenario-based system allows users to accelerate their emergency response preparedness by compressing infrequently seen situations into hours of effective crisis response training. Following launch, the system will draw from the experiences of the response community.
"We are attempting to revolutionize crisis decision-making," said C. Reed Hodgin, President of AlphaTRAC. "Our web-based platform and the introduction of a groundbreaking approach to experience-based training using artificial intelligence technologies positions DOE on the cutting edge of crisis training."
AlphaACT HAZMAT goes beyond the kind of training solutions currently available to emergency response personnel. With AlphaACT HAZMAT, emergency responders can:

Work from many browser-enabled devices
Link to a nationwide database of scenarios that will grow with scenarios created and shared by emergency responders
Learn from patterns revealed by an artificial intelligence program called a pattern recognition engine
Customize the system to their preferences and track their learning progress
Go head-to-head with other responders in friendly competition
Join a "virtual team room" with other members of the user community
For more information about AlphaACT HAZMAT, visit http://www.alphaact.com.
About AlphaTRAC
AlphaTRAC provides comprehensive solutions for clients who prepare for and respond to crises and hazardous material emergencies.
We specialize in:
Crisis and combat decision support solutions
Hazards-based emergency decision systems
Atmospheric hazards, risk, and vulnerability assessments
Assessment and modeling technology
Emergency planning and preparedness
Real-time emergency response
Based in Westminster, Colorado, AlphaTRAC was founded in 1992 with the vision of saving lives and ensuring mission success in crisis situations.
AlphaTRAC's staff includes experts in emergency planning, decision-making psychology, risk assessment, environmental engineering, nuclear and chemical engineering, operational and strategic training, dispersion modeling, meteorology, software development, and risk communication.
# # #