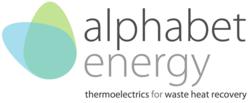 Capturing and harnessing wasted heat represents a huge opportunity for society, and I am thrilled to have the chance to help Alphabet pioneer this market.
SAN FRANCISCO, Calif. (PRWEB) September 27, 2011
Alphabet Energy Inc., maker of thermoelectric materials for waste-heat recovery, has named Dr. Graham Fisher to its technical advisory board. Dr. Fisher is currently chief scientist at MEMC, were he leads the emerging technologies research group. MEMC is a global pioneer in wafer technologies and one of the largest suppliers of polysilicon and silicon wafers for the semiconductor and solar industries. The company sells its products to device manufacturers around the world.
Dr. Fisher has deep experience in scaling up technologies for mass markets. He is a leading expert in the process for introducing new products from research phase through manufacturing, most recently with respect to silicon-based photovoltaic materials for the conversion of solar energy to electricity.
"We're thrilled to add Graham to the team. He has extraordinary experience and technical expertise that we'll be able to leverage in getting to market," said Matt Scullin, Alphabet's CEO and founder.
Sylvain Muckenhirn, Alphabet's VP of process and manufacturing, added: "Graham brings decades of experience in shaping and manipulating silicon, and will help Alphabet Energy advance faster toward commercializing technology that can be quickly scaled into mass production using the latest fabrication techniques."
"What attracted me to Alphabet Energy is that it has developed yet another important use for silicon and enjoys a well-protected patent position," said Dr. Graham Fisher. "Matt is building a world-class team around a solid technology and product offering, and I see thermoelectrics as a possible new phase for silicon, like MEMS and photovoltaics have been in the past. Capturing and harnessing wasted heat represents a huge opportunity for society, and I am thrilled to have the chance to help Alphabet pioneer this market."
Alphabet Energy's first product, currently in prototyping, is a simple, turnkey solution for the generation of electricity from wasted heat. Alphabet's goal is to become the leader in the potential $100 billion global market for products that convert medium- to high-grade waste heat into electricity, now part of an existing $75 billion/year market for energy efficiency and a $6 billion/year market for industrial equipment. In the near term, the company is planning to deliver waste-heat-to-electricity generators that utilize exhaust gas as an energy source.
What are thermoelectrics?
Thermoelectric materials are semiconductors that, when placed in a temperature gradient, generate electricity in the solid state—like solar panels for heat. Alphabet's breakthrough thermoelectrics can be used to turn heat directly into electricity in applications such as metals refining, cement and glass production, power generation, automotive, aerospace, and military. The company's proprietary, all-silicon thermoelectric technology is currently the sole approach coming to market that can lend itself to massive scale, utilizing abundant materials and existing, inexpensive manufacturing know-how. The output range of power generation from Alphabet's products can be from microwatts to megawatts.
About Alphabet Energy Inc.
Alphabet Energy is commercializing breakthrough, inexpensive waste-heat recovery products based on technology developed at the Lawrence Berkeley National Laboratory. Alphabet aims to offer the most modular and scalable heat-recovery technology available, and to tap into the potential $100 billion market for the conversion of medium- and high-grade waste heat into electricity — offsetting as many as 500 million metric tons of carbon per year. Alphabet Energy won four awards at the 2009 Cleantech Open business competition: runner-up, National Prize; winner, National People's Choice Award; winner, California region Energy-Efficiency Prize; winner, California region Sustainability Prize. For more information, see http://www.alphabetenergy.com and @alphabetenergy on Twitter.
###