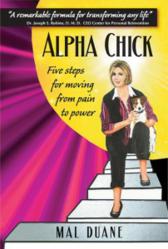 Alpha Chick is Mal Duane's inspirational memoir for women who want the rewarding, fulfilling and happy life they've always dreamed about but didn't know how to achieve - Lynn A. Robinson — author of Listen:Trusting Your Inner Voice in Times of Crisis
Boston, MA (PRWEB) February 13, 2012
Alpha Chick: Five Steps for Moving from Pain to Power is more than just a road map to happiness, success, and fulfillment. It is a model for anyone who dreams of having those things. Follow the clear step-by-step process to become your own unique brand of Alpha Chick and step onto the path to being the sizzling, empowered person you are meant to be. Follow Duane's interesting, humorous, entertaining, tragically sad and inspirational self-transformational journey from low self-esteem, depression, failed relationships and the downward spiral of alcoholism to freedom, self-love, happiness, fulfillment and giving back. Dr. Joe Rubino shares "I invite you to not just read but devour this book, take on the lessons and principles Mal shares and look for how each one can specifically enhance your life to be taken to the next level."
Although the story of Duane's journey from innocence, to obsession and finally to an entirely new life will easily captivate you, Part Two of Alpha Chick includes the five empowering steps that Duane actually used to find recovery and self-love. The five steps are: focus, acceptance and attitude, identification and intention, thoughts, healing and helping. Magically, these five steps spell out the word FAITH. As an accompaniment on the path of your own personal awakening, also included is a downloadable free Alpha Chick Action Guide intended to be used for the steps outlined in the second part of the book.
Don't miss the special Valentine's Day promotion. On February 14th only - purchase Alpha Chick on Amazon.com and receive incredible complimentary gifts from Duane and over 20 empowering entrepreneurs, authors and inspired thinkers, including: Dr. Joe Rubino, Paula Tarrant, Lynn Serafinn, Christine Kloser and more, who have stepped forward to support the book's intention of motivating people to let go of pain and find their way to personal transformation and living happy, fulfilled lives full of purpose. (http://alphachick.com/book-launch/pages/pre-launch.html )
Duane's strong belief in educating women has led to the formation of Holly's Gift, an educational assistance fund. Through the support of Holly's Gift, a school has been built in Konjila, West Africa that educates 100 students annually. A percentage of Alpha Chick's book sales will be donated to this wonderful organization and will afford at least three additional women the opportunity to learn a skill and gain the freedom that employment brings.
Give the gift of self-love, on Valentine's Day, Alpha Chick will on be available on Amazon.com and other online retailers.
For more information about Mal Duane or Alpha Chick visit http://www.alphachick.com or email pr(at)alphachick(dot)com.
###