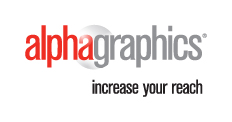 Salt Lake City, UT (PRWEB) March 18, 2012
AlphaGraphics has created a new marketing strategy to help restaurants find potential customers by utilizing smart phone and mobile technology. About one in four restaurants close or change ownership within their first year of business and AlphaGraphics' new strategy combines traditional printing services with online and mobile marketing and social media to help restaurants succeed.
"Through our marketing and print communications, we aim to provide turn-key marketing solutions to aid in both customer acquisition and customer retention. Whether it's through direct mail, mobile marketing, or digital marketing solutions, we're confident that AlphaGraphics' marketing programs can keep restaurants full, allowing restaurant owners to focus on what they do best, keeping their customers happy and full," says Jesse Himsworth, Director of Marketing for AlphaGraphics, Inc.
Because nearly half of all local searches are performed on mobile devices, AlphaGraphics realizes that restaurants can increase their exposure tenfold while leaving impressions on their new and existing customer base through mobile marketing. AlphaGraphics new mobile marketing plan includes using mobile specific websites, applications and QR (scan) codes. AlphaGraphics QR codes can be integrated into marketing materials like business cards, magazine advertisements, websites, tee- shirts and direct mail pieces.
AlphaGraphics market research shows that by 2014, mobile surfing will surpass PC volumes and over the next few years mobile users will be 25 percent more likely to respond to advertising on their mobile phones.
"Whether it's mobile, online, or more traditional print marketing, our specialized marketing solutions will assist restaurants by communicating with patrons, and potential patrons, in the way that they prefer to be communicated with."
After a restaurant reaches the five year mark only 2-3% of them shut down. By helping with things like printing color copies of menus, banners, business cards and running customer retention campaigns, AlphaGraphics can help restaurants regardless what stage they are in business.
As new technologies develop, AlphaGraphics will continue to create effective marketing strategies for their customers.
About AlphaGraphics:
AlphaGraphics, Inc. plans, produces and manages visual communications for businesses at nearly 300 owner-operated, locally-based business centers worldwide. Headquartered in Salt Lake City, Utah, the AlphaGraphics network leads the industry in sales per location. Backed by state-of-the-art technology, the world's highest quality standards and a global network, the company's trained and experienced team members are committed to delivering creative solutions that allow customers to communicate more confidently and effectively. AlphaGraphics is owned by Blackstreet Capital. For more information visit: http://www.alphagraphics.com or call (800) 955- 6246.